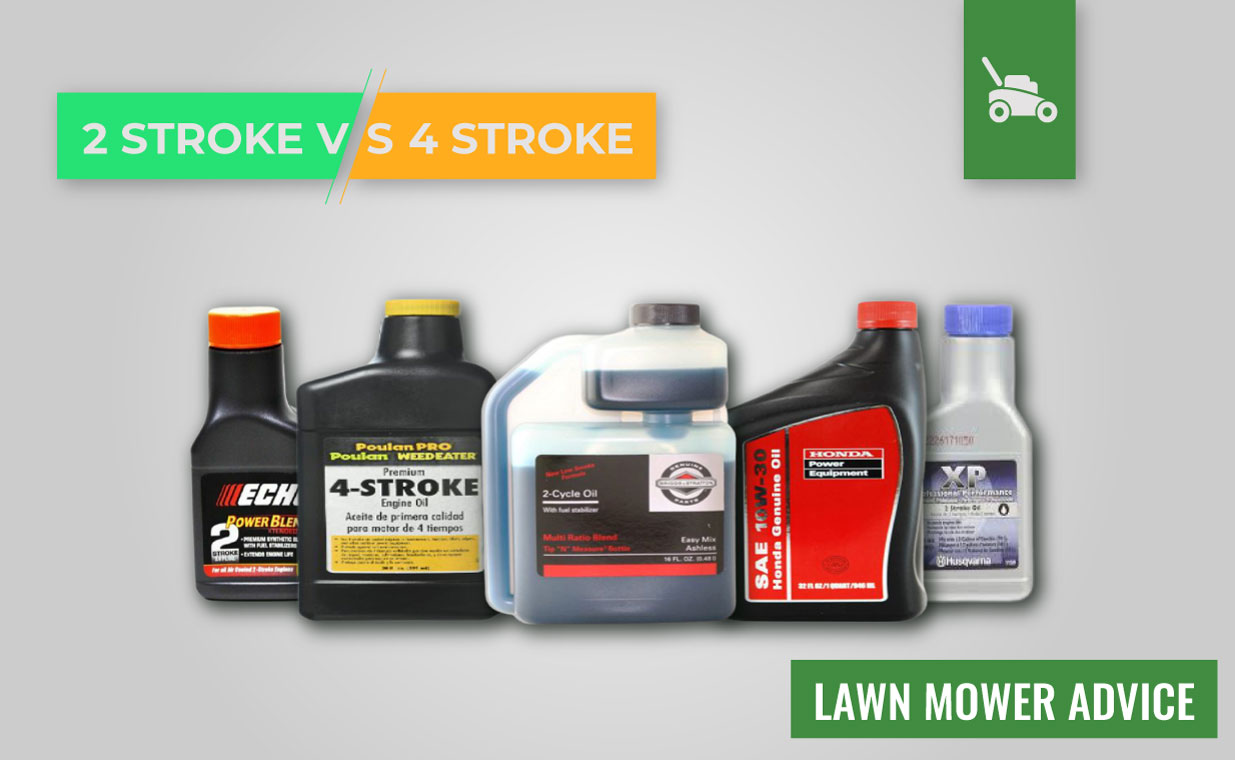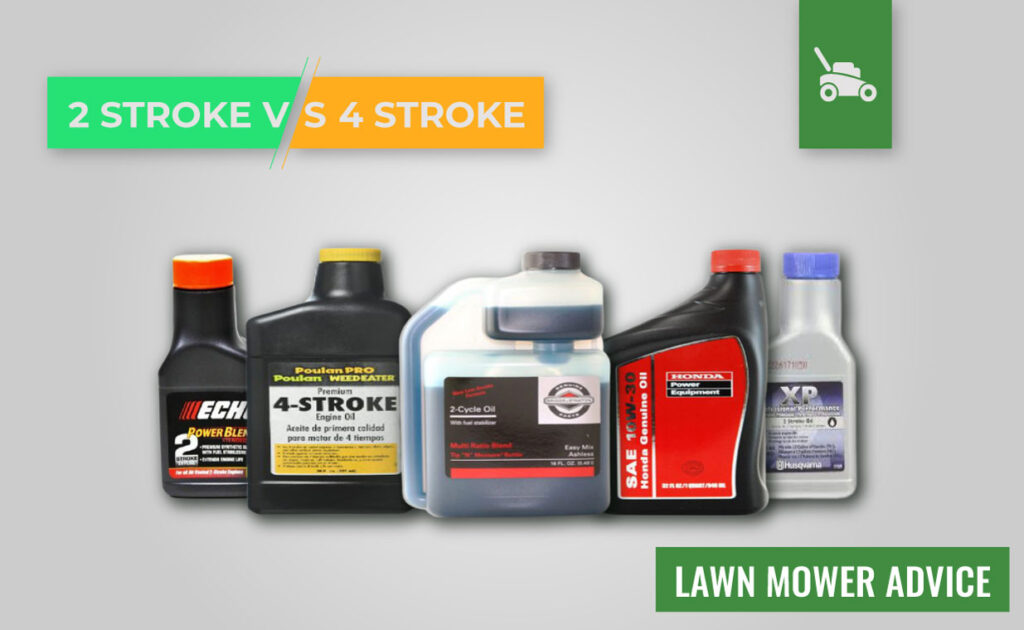 Lawnmowers keep your lawn in the best shape; taking a little care of it can go a long way in ensuring its longevity and dependability. Cleaning the lawn mower and taking care of the aesthetics is all good but what really matters is what you put inside the engine. The best oil for the lawn mower will keep it in the best condition and will extend its service life considerably.
The wrong oil can stall your lawnmower and can do irreversible damage to the engine. The right one ensures smooth, efficient operation and long engine life. So, how to select the best oil for a lawn mower? With so many options out there, selecting the right one can be a hassle.
Things to Look Out For The Best Oil For Lawn Mower
Here are a few things that you need to keep in mind while making the purchase.
Lawn Mower Oil Types
Engine oil is rated according to the temperatures that it can safely withstand. Depending on the engine and the type of climate that you have, your engine can work on any of the following:
SAE 30: SAE 30 rated oils are meant for engine operating at warm to high temperatures, this category of oils is the recommended oil for small engines, which makes it a good fit for lawnmowers as the engine size on mowers is usually very small.
SAE 10W-30: 10W-30 oils can work on a range of temperatures. The variable temperature operating range makes cold starts easy but at the same time may increase the oil consumption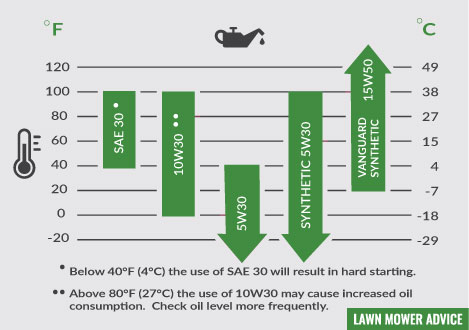 Synthetic SAE 5W-30: Synthetic oils are the future. These are innovative and are hardly burnt during the normal operation of the lawn mower. Synthetic oils provide the best overall protection at all temperatures and can also help with cold starts.
SAE 5W-30: Oils with the SAE 5W-30 rating are meant to be used in extremely cold climates and will help with starting and smooth functioning of the engine in low temperatures.
Fully Synthetic 15W-50: If you intend on using your lawn mower for hours on end or if your engine exerts more force throughout the lawnmowing exercise, going for a fully synthetic 15W-50 will be worth the extra money. It can function perfectly at a range of temperatures, and its fully synthetic nature makes it deposits-free.
Don't use extra additive oils for lawn mower engines. If your region is somewhat hot and the temperatures cross 90F, then going for a 15W-50 would be the best option. This is because above 80F 10W30 can become inefficient, and using it may cause increased consumption.
On the other hand, using an SAE 30 for cold temperatures is not recommended as it can lead to hard starting.
Most lawn mowers may be using a 2-stroke engine. These engines require a fuel additive and burn a fuel-oil mixture to stay lubricated. These are fast becoming obsolete because they do not comply with the environmental regulations in some states these days. If you have one of these mowers, then looking for a 2-stroke (2-cycle) oil is the best bet.
Which Size Of Oil To Buy?
All engines are different; they take in different amounts of oil and use different technologies to work. It is best to consult the instructions manual from the manufacturer to know the right amount of oil for your lawn mower engine.
Generally, bigger engines require more engine oil than smaller ones but the decrease in oil needs is not proportional.
Engine oils have an indefinite shelf life, so if you decide to go for a bigger-sized can because it gives the best value for money, it would be a prudent decision.
Best Oil For Lawn Mower
We've done the research for you and here are the best lawn mower oils that you can find on the market.
IMAGE
PRODUCT
DETAILS
 

2 Stroke Pick

Briggs & Stratton 2-Cycle Easy Mix Motor Oil
Oil Type: 2-stroke Engine Oil
Mix Ratio: 50:1
Brand: Briggs & Stratton
Liquid Vol: 16 Oz.
Husqvarna XP 2-Stroke Oil
Oil Type: 2-stroke Engine Oil
Mix Ratio: 50:1
Brand: Husqvarna
Liquid Vol: 6*2.6 Oz.

4 Stroke Pick

Honda Motor Oil 10W-30 QT
Oil Type: 4-stroke Engine Oil
Viscosity: SAE 10w-30
Brand: Honda
Liquid Vol: 32 Oz.
Echo 6450001 Power Blend
Oil Type: 2-stroke Engine Oil
Mix Ratio: 50:1
Brand: Echo
Liquid Vol: 6*2.6 Oz.
Poulan Pro Lawn Mower Engine Oil
Oil Type: 4-stroke Engine Oil
Viscosity: SAE 30W
Brand: Poulan
Liquid Vol: 20 Oz.
1. Briggs & Stratton 2-Cycle Easy Mix Motor Oil – Best 2-Stroke Engine Oil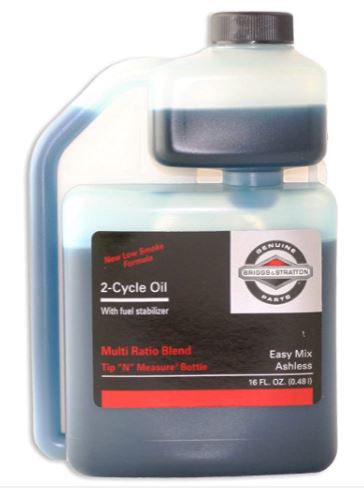 | Oil Type | Mix Ratio | Brand | Liquid Volume |
| --- | --- | --- | --- |
| 2-cycle Easy Mix Motor Oil | 50:1 | Briggs & Stratton | 16 Oz. |
Briggs & Stratton is a household name when it comes to building great engines. Their engines are known for exceptional power and longevity. The Briggs & Stratton 2-cycle easy mix motor oil is no different.
The easy mix motor oil is manufactured for small two-stroke engines (a.k.a. two-cycle engines); this implies that the oil is also mixed with fuel in the fuel tank, and the mixture is burnt to provide smooth, lubricated operation. Not all lawn mowers use a 2 stroke engine, but most push mowers do, making the Briggs and Stratton 2-cycle Easy Mix Motor Oil the best option for push mowers.
The bottle is highly innovative and has a dedicated measure on top so that you can measure just the right amount that you want to dispense. This also helps to maintain the oil-fuel ratio.
Briggs and Stratton have been in the motor and oil manufacturing business for more than a century, and their manufacturing prowess allows them to make perfect oils that are safe to use even at a steep ratio of up to 50:1. The highly viscous oil is perfect for smooth operation in cool conditions but won't last that long because of the highly viscous form.
Briggs and Stratton are one of the few oil companies that are paying heed to the environment. The oil has ash-free additives that make no soot as the oil burns in the engine with the fuel. Also, thanks to the fuel stabilizers in the oil and the refined quality, there are minimal deposits, and the oil keeps the engine safe even if the motor is not used for a significant amount of time.
The innovative bottle and the excellent quality of oil help the Briggs and Stratton 2-Cycle Easy Mix Motor Oil stand out from the competition. As most lawn mower engines are 2-stroke, this is an all-in-one solution that is fairly priced and packs all the bells and whistles that you'll need from engine oil.
2. Husqvarna XP 2 Stroke Oil 2.6 oz. Bottle
| Oil Type | Mix Ratio | Brand | Liquid Volume |
| --- | --- | --- | --- |
| 2-stroke Engine Oil | 50:1 | Husqvarna | 6*2.6 Oz. |
Husqvarna Group is based out of Europe and has been manufacturing power equipment for quite some time now. The HUSQVARNA company is in the business for more than five centuries now and made the transition from manual equipment to motorized ones and now also have mastery in electrical equipment.
The famous company brought its grass trimmers and machines to the US in the early 20th century and have made a name for themselves owing to the excellent quality and innovative prowess. Their engine oils are no different. Using a HUSQVARNA engine oil delivers instant results as you'll be experiencing reduced smoke and soot, lesser deposits, and smoother operation even with a single oil change.
The oil is excellently manufactured and checks all the boxes when it comes to a low smoke 2-stroke engine oil. The oil is also sold as a spare part for HUSQVARNA chain saws and lawn mowers but can be safely used with all 2-stroke machines.
The XP 2-Stroke Oil delivers maximum performance, and the instructions also mention it as safe for use with all 2-cycle motors. Using the HUSQVARNA means you'll be using an efficient fuel-oil mixture as it has additives that make the burning smoother and reduce vibrations. It cleans the engine thanks to the added detergents and additives that don't allow any deposits to leave the oil. Japan is one of the most environment-friendly nations in the world, and this oil complies with all regulations.
Many users use it for their push mowers and are satisfied with the results as it indeed gives out less smoke than others, as claimed by the manufacturer. The bottle choice could've been better as using a gallon, and a measure would've been more environmentally friendlier than the six-bottle pack.
3. Honda Motor Oil 10W-30 QT – Best 4-Stroke Engine Oil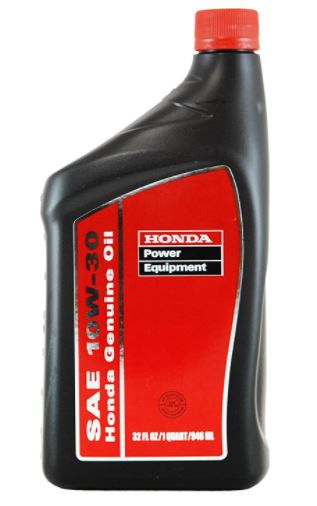 | Oil Type | Viscosity | Brand | Liquid Volume |
| --- | --- | --- | --- |
| 4-stroke Engine Oil | 10W-30 | Honda | 32 Oz. |
Honda engines are considered the best in the world. Durable, efficient, and top-notch performance are the words repeatedly used for Honda even by users of other brands. Honda builds the perfect engines and the perfect oils for them. Honda engines have been around in the US for more than 60 years now, and be it a lawn mower or a jet, Honda's attention to detail is what has helped them stay on top of their game and is a household brand when it comes to dependable equipment.
Even if your lawn mower is not from Honda, their oils are perfect for most lawn mower engines that use the 4-stroke engines. If you have a 2-stroke engine on your lawn mower, it's best to use a formula that is rated for 2-cycle operation.
It can be used across multiple temperature ranges thanks to the viscosity index improvers in the oil. This also allows easier starting of the engine even if the lawn mower was not in use for a long time. Be it summer or winter, the oil will keep your engine lubricated and safe as it also features shear-resistant polymers.
Honda Motor Oil 10W-30 QT is an excellent 4-stroke oil for a Honda lawn mower that does not cut any corners when it comes to caring for your engine. The excellent choice of additives, the excellent viscosity, and affordable oil all make it the best oil for lawn mower. So, if you have a riding lawn mower or a push mower, the Honda Motor Oil will take care of your lawn mower and increase its life significantly.
4. Echo 6450001 Power Blend – Best in Convenience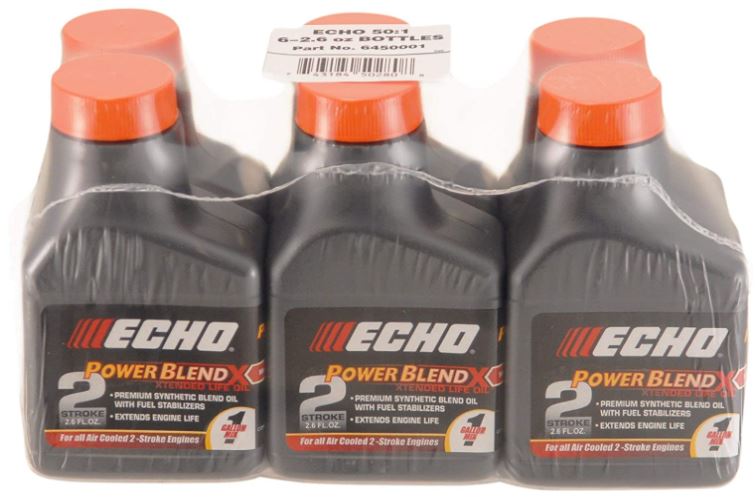 | Oil Type | Mix Ratio | Brand | Liquid Volume |
| --- | --- | --- | --- |
| 2-stroke Engine Oil | 50:1 | Echo | 6*2.6 Oz. |
Worried about damaging your engine? Not sure about the ideal fuel-oil ratio? ECHO has just the thing with you. ECHO has been operating in the US since 1978 and is one of the best power equipment manufacturers from Japan.
Caring for a 2-stroke engine can be difficult as every time you refuel it, some oil needs to be added. ECHO heard the consumers and came up with an ingenious solution. The Power Blend oil mix takes your worries away from maintaining your desired oil-fuel mix and delivers a smooth mix that will care for your engine perfectly.
Power Blend is a custom-tailored two-cycle motor oil that has to be mixed with petrol that has a RON89 and up. The blend has detergents for dissolving dirt particles and additives that don't allow deposits to settle down. It should be noted, though, that the ECHO Power Blend is not a fully synthetic oil, making it appear expensive for the price.
The oil comes in packings of single-use bottles that contain 2.6 oz each. The instructions are simple and straightforward. Just add one bottle of the ECHO mix to one gallon of gasoline to get the ideal ratio. The only downside to such an easy solution is the unnecessary carbon footprint of the increased packaging.
The ECHO Oil Mix is great and can make your lawn mower run lean, i.e., low smoke and soot production. So, if you have a 2-stroke engine that is producing a lot of smoke, the ECHO Oil Mix can prove helpful.
5. Poulan Pro Lawn Mower Engine Oil 30W 20oz PP60019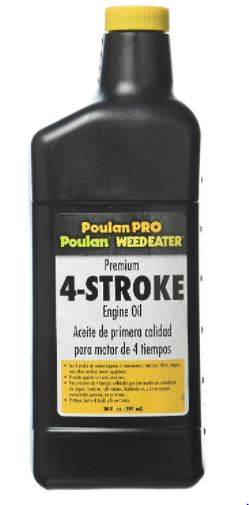 | Oil tType | Viscosity | Brand | Liquid Volume |
| --- | --- | --- | --- |
| 4-stroke Engine Oil | SAE 30W | Poulan | 20 Oz. |
Poulan is a specialized division of Husqvarna that delivers performance that is tailored to suit the needs of specific situations. The Poulan line of products caters to all outdoor power equipment.
The Poulan Pro is an excellent choice for most engines as the 20 oz plastic bottle is easy to carry and can top up your lawn mower engine. This special line of oils is rust and corrosion-resistant, so if you have a motor that is old, this SAE 30W will take care of it just fine.
The oil is not that efficient at low temperatures but will work effectively and efficiently at 40 degrees Fahrenheit and above. Poulan Pro lawn mower engine oil will improve the performance of your engine dramatically and does not allow any oxidation of the engine surface, stopping corrosion effectively.
The bottle size is generous, and the rust and corrosion resistance are a welcome addition. If you operate your lawn mower at lower temperatures, a multi-grade solution would be much better.
Guide to Change Oil in Lawn Mower
Changing the oil on your lawn mower is easy, and the instructions for most engines are the same, be it in a car or on a lawn mower. However, it is best to consult the instructions manual so that there is no room for error.
Changing The Oil On Your Lawn Mower
Every engine needs to be warmed up before any oil flows out of it; this is because this practice warms up the oil and allows it to flow freely around.
Once the engine is warm, place an oil tray under the drain cap of the engine.
Unbolt the drain plug and let the old engine oil flow out. You can tilt the mower sideways or wiggle it to ensure that the old oil is completely drained.
Wait for a few minutes to ensure complete removal.
Place the drain screw back in and tighten it.
Pour fresh oil into the engine oil cap, consult the manufacturer's manual for a specific quantity of oil needed.
Use the dipstick to check the level of oil.
Place the cap back on, and your engine is ready to roar.
It is important that there be no dust around the engine changing bay. Dust particles can prove detrimental to an engine's life. In addition, you should dispose of the old oil in an environment-friendly manner as used engine oil can be hazardous.
When to Change The Oil?
The decision to change the engine oil depends on the type of engine and the type of oil used. It's best to consult the manufacturer's instruction manual to find out the ideal number of hours after which the oil must be changed.
Riding mowers usually have the longest oil change interval, followed by push mowers. An average lawn mower needs to be flushed, and new oil needs to be put in every 25-50 hours.
If the engine is facing issues, or if you're unsure, it is safe to change the oil after every 5-10 hours to be on the safe side. Moreover, external factors like wet grass, dense fogs, and generally humid weather also warrant an early oil replacement.
If you just got a lawn mower and it has not gone through the engine 'break-in' period, then changing the oil every 5 hours for the first two oil changes is recommended.
Conclusion
As you'll know by now, there are different kinds of oils out there, and all carry their own unique advantages and disadvantages. Select the right one for you depending on your engine and the ambient temperature of your region.
If you're unsure about the type of oil you want to use in your lawn mower Honda Motor Oil is the best choice for 4-stroke engines can be a great choice as it can handle most temperatures, has excellent additives and will ensure engine longevity.
For 2-stroke engines, the Briggs and Stratton oil packs an innovative bottle that helps in dispensing the oil safely and will keep your engine in the best shape throughout the year.