Lawns are a blessing; who doesn't like an exquisite, neat, and maintained place where you can relax after a long day or on the weekend. It all seems lovely until you have to mow the terrain. And if you have rough terrain to mow, then your mowing task just got a little troublesome.
Mowing a rough terrain can sound like a tiring job, but the right tools can actually make it into quite a fun activity. If you are looking for a mower that can mow rough terrain, there are a lot of credible options available on the market.
Making a clear decision can be extremely confusing, and rightly so as there are some great options out there. We've done the research for you and have prepared a shortlist of the 11 best push mowers for rough terrain that will get the job done most efficiently and effectively.
In a Rush? Here is Our Top Choice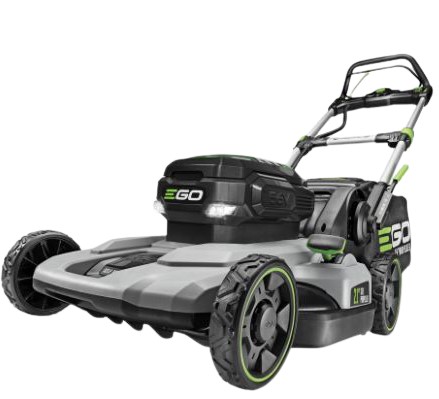 Powerful 56V ARC Lithium Battery
80 Minute Wse with Single Charge
21 Wide Inch Cutting  Deck

6 Position Cutting Height Adjustments

3-in-1: Mulching, Bagging, Side Discharge
Easy Mowing in Wet Condition
5 Years Tool Warranty
11 Best Push Mower For Rough Terrain
With all the information provided here, we had tried to make it easier for you to find the best push lawn mower for rough terrain. So, let's get started with the best options available in the market to what you should be looking for!
Presenting the 11 best push mowers for rough terrain available in the market to help you get the right one for your lawn according to the lawn conditions and needs.
IMAGE
PRODUCT
DETAILS
 

#1 Top Pick

EGO POWER+ 21inch 56V
Power: Battery
Battery Life : 80 min
Deck: 21 inch
Weight: 89.8 Pounds

Editor's Pick

Greenworks PRO 21inch 80V
Power: Battery
Battery Life : 60 min
Deck: 21 inch
Weight: 79.5 Pounds

Power Pick

Honda 21inch 170CC
Power: Gas
Engine : 170 CC
Deck: 21 inch
Weight: 92 Pounds
Snapper XD 82V MAX

Power: Battery
Battery Life :90 min
Deck: 21 inch
Weight: 90 Pounds

Budget Pick

WORX WG779 14inch 40V
Power: Battery
Deck: 14 inch
Weight: 29.1 Pounds
Greenworks M-210 21inch 40V
Power: Battery
Deck: 21 inch
Weight: 65.48 Pounds
Craftsman M215 159cc 21-Inch
Power: Gas
Engine : 170 CC
Deck: 21 inch
Weight: 82.2 Pounds
POWERWORKS 60V 21inch

Power: Battery
Battery Life :70 min
Deck: 21 inch
Weight: 90 Pounds

CRAFTSMAN 149CC
Power: Gas
Engine : 149 CC
Deck: 21 inch
Weight: 66.9 Pounds
G-Max 20inch 40V
Power: Battery
Deck: 20 inch
Weight: 42.5 Pounds
PowerSmart 170cc

Power: Gas
Engine : 170 CC
Deck: 21 inch
Weight: 60 Pounds
1. EGO POWER+21 Inch 56V (#1 Push Mower For Rough Terrain)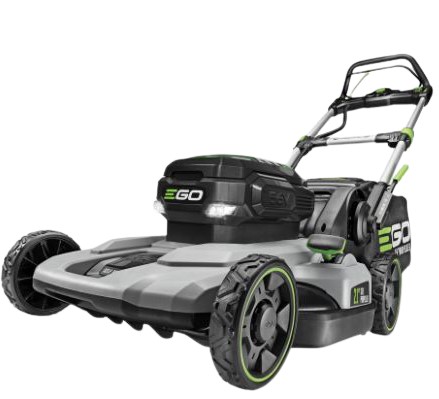 | Power Source | Deck Size | Battery Size | Weight |
| --- | --- | --- | --- |
| Battery | 21 inches | 5.0 Ah | 89.8 pounds |
We understand that mowing the lawn can be a tough activity. Also, operating a push mower for rough terrain can be an even more challenging job, particularly if the mower is not meant for rough terrain.
EGO has been manufacturing quality yard tools for a very long time now, and their manufacturing of the EGO Power+21 Inch 56V is no different. It is one of the best battery-operated push mowers for rough terrain out there.
The mower has it all, the power and torque of a gas-operated one, while also having the quiet functioning of an electric one. This push mower for rough terrain is powerful enough for rough terrain thanks to its brushless ARC Lithium battery.
EGO Power+ has 6 step height adjustments that range between 1. 5" to 4" so you can prune the grass to just the right height. The mower is a complete solution to all your mowing needs as it has both bagging and mulching systems.
Protect your soil with the mulching feature by the press of a lever which will add a layer of the grass clippings over the soil. In addition to all the great features of the EGO Power+, the push mower packs a powerful battery that can last more than an hour on a single charge.
The safety features on the Power+ are just as good. You can start the mower by using the green button and can ensure your safe stopping by pulling down the front lever. The ingenious design of the EGO Power+ makes sure that it doesn't clog and does not require much maintenance.
EGO Power+ is definitely one of the best lawn mowers out there that provides a noise-free, effortless, and clog-free mowing experience.
Features
A single charge can last for more than 80 minutes
High-efficiency brushless motor
Variable Speed to control movement through rough terrain
Six adjustments available for height
Mulching, side discharge, and mulching feature all-in-one
Bright LED headlight for nighttime mowing
1-handed height adjustment
2. Greenworks 21-Inch 80V (Editor's Choice for Best Push Mower For Rough Terrain)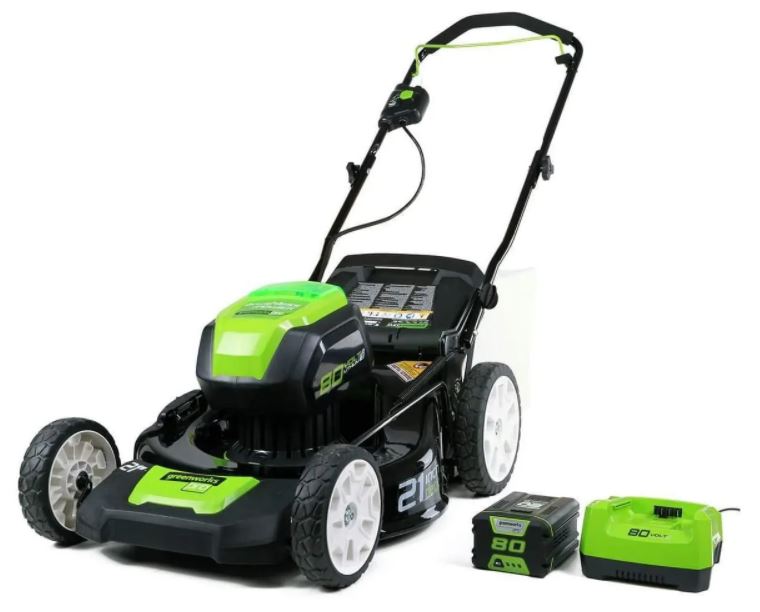 | Power Source | Deck Size | Battery Size | Weight |
| --- | --- | --- | --- |
| Battery | 21 inches | 2.0 Ah | 79.5 Pounds |
Bring yourself to ease with the non-stop cutting lawnmower by Greenworks, having a 60 min run time and 2 AH batteries. The electric push mover, GreenWorks Pro 80V GLM801601, is great for rough terrain. The angled design and large wheels give a catchy appearance to the 21-inch cordless lawnmower. It is easy to operate irrespective of its bulky look. The manufacturers claim GreenWorks Pro 80V has power equivalent to a 160cc gas engine. The Smart Cut(TM) Load sensing technology acts as a booster making the lawnmower highly efficient.
The GreenWorks Pro 80V cordless lawn mower perfectly serves homeowners with its powerful DigiPro brushless motor, offering optimal performance staying reliable.
The Pro 80V can bag, mulch, or side discharge according to your needs. This feature enables you to ditch your gas tools with innovative and eco-friendly alternatives.
Features
Up to 60 minutes of run time
Brushless motor design adds to reliability
21-Inch durable steel deck
Smart-Cut technology can sense the load and adjust RPM accordingly
Mulch, rear bag, and side discharge options
Seven step height adjustment using a single lever
Cutting adjustment 1-3/8 inch to 3-3/4-inch cut
3. Honda GCV170 21 (Best Gas Powered Push Mower For Rough Terrain)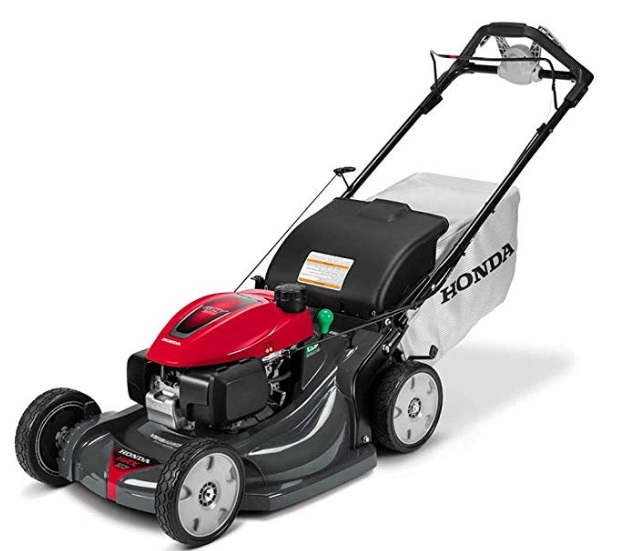 | Power source | Deck Size | Engine Size | Weight |
| --- | --- | --- | --- |
| Gas Powered | 21 inches | 167 cc | 92 Pounds |
Honda Power Equipment has introduced a high-quality lawnmower GCV170 21, which makes sure that you won't break a sweat while lawnmowing. The GCV170 21 allows you to match the mower with your walking speed. The variable speed smart drive and 21-inch blades assist with efficient cutting. The powerful commercial-grade engine ensures durability and longevity.
Honda GCV170 21 self-propelled lawn mower engines have been upgraded from GCV160 to GCV170. It has an Auto Choke System and a 3-in-1 feature with Clip Director allows easy mulching, bagging, and discharging without requiring any attachments that add up to its specifications.
Comparing the engine GCV160 against GCV170, the upgraded version brings easier maintenance and consumer even less fuel than the previous one. On paper, the engine brings a boost of 9% in power and packs 18% higher torque than the outgoing engine.
User compliance is specifically considered while manufacturing Honda GCV170 21. The Honda HRN216 lawn mower packs the Honda twin-blade design, this proprietary technology allows for finer mulching. Also, the seven-step height adjustment can adjust between 1" to 4" cutting height. Its five adjustable positions help in keeping you in comfort. When you use the bagging option, the clippings are finer and more manageable allowing you to get more grass in the disposal bag; saving you frequent trips to the waste area.
This gadget is proficient and rewarding even in thunderstorms. When it comes to cutting wet grass, Honda HRN216 won't let you down making it the best gas-powered push mower for rough terrain.
Features
Advanced and improved GCV170 engine
Auto choke system
Ground speed 0 to 0.4 mph
8-inch plastic wheels
21″ Steel/resin deck
7-position, 2-point deck height adjustment
Cutting height adjustments ranging from 1.06″ to 3.93″
Rear discharge, mulching, and bagging functions
17-gallon bag
Two-handle positions
Twin blade cutting system
4. Snapper XD 82V MAX Cordless Electric Push Lawn Mower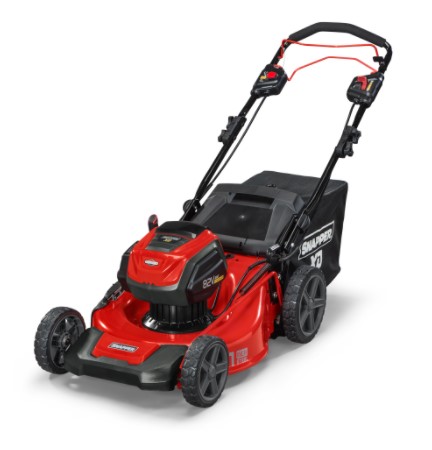 | Power Source | Deck Size | Battery Size | Weight |
| --- | --- | --- | --- |
| Battery | 21 inches | 5.0 Ah | 90 Pounds |
Snapper is an established mower manufacturer and has been one for decades. Snapper believes in excellence and quality, and their products show that. The Snapper XD 82V is also an excellent offering that packs all the necessary features that you look for in a mower. The 82V is also self-propelled and can fulfill all your mowing needs. The XD 82V MAX comes with a plethora of user-selectable features, like battery capacity and mowing deck size.
The 82V promises a wide cutting area with a 21" deck size. The steel deck is durable and offers all-in-one features. Be it side discharge, mulching, or bagging options, the Snapper XD 82V has it all. The 2.1 cubic feet bag is a welcome addition that can handle a large volume of clippings without you making return trips to the disposal.
If you are looking for an electric mower that packs the power and does not disappoint, then the Snapper XD 82V MAX would be a better option because its 1,000 or 1,200-watt high-efficiency brushless motor provides the power and reliability you need to mow your yard for years to come. The Snapper XD 82V Max is extremely good at storage too, as the vertical storage design takes up minimal space in the garage.
Features
Powerful Briggs & Stratton 82V motor (72V nominal power)
Durable 1000-watt brushless motor
2Ah, 4Ah, or 5Ah Lithium-Ion Battery options for increased mow-time.
The 21-inch steel deck has a 19" cutting diameter.
Start/Stop at the convenience of a button.
Seven-step height adjustment with a single lever.
5. WORX WG779 40V PowerShare 4.0 Ah 14" 
| Power Source | Deck Size | Battery Size | Weight |
| --- | --- | --- | --- |
| Battery | 14 inches | 4.0 Ah | 29.1 pounds |
The WORX WG779 Cordless Battery lawnmower is quickly gaining popularity and is becoming the go-to choice of the US. This is partly because of the excellent craftsmanship from WORX and partly because the battery-driven machine has a minimal carbon footprint.
It is known to be the best push mower for rough terrain because of its noise-free, clog-free, and efficient bagging feature which provides an elegant and clean lawn at the end. The zero-emissions electric drive train works extremely quietly and is efficient. WORX takes the quietness to another standard, thanks to their proprietary "Mute technology" that minimizes all noises that usually originate from operating a mower.
WORX lawn mower is efficient, quiet, and uses innovation to get the task done. The company has opted for a 2-battery design as compared to a 1-battery one. This keeps the batteries from overheating and allows for quicker charging.
The WG779 also allows you the liberty of choosing the right cutting height. Choose between 20mm to 70mm with six separate cutting lengths while making sure your actions are not invasive towards the environment.
Features
14" deck size for special areas.
40V Lithium-ion removable batteries.
Cordless operation and Intellect electricity technology.
INTELLICUT™ analyzes the RPM needs and saves the battery if more torque isn't needed.
A single charge can mow up to 5,500 sq. ft.
Lightweight design for easy maneuvering.
Easy to store design.
Two 20V (4.0Ah) batteries deliver 40V of power.
Removable batteries bear charge indicators.
Short, one-hour recharge time.
6. Greenworks M-210 21 in. 40V Brushless Push Mower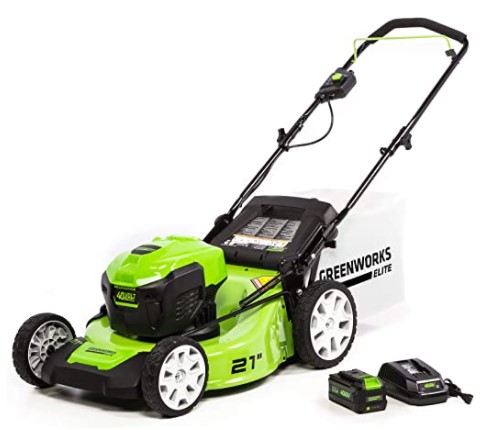 | Power Source | Deck Size | Battery Size | Weight |
| --- | --- | --- | --- |
| Battery | 21 inches | 2.5 Ah | 65.48 Pounds |
The Greenworks M-210 21-Inch 40V Brushless Push Mower is another great push mower for rough terrain. The push mower is based on a dual battery system. It is the best possible electric push mower for rough terrain because it uses brushless mower transfer technology to generate more torque while making things quieter.
The M-210 charging was made universal by the introduction of a USB port on the mower, but this comes with the trade-off of losing a dedicated charger in the box.
The brushless motor allows for a high level of torque to be produced. Not only does the motor allow the mower to run quieter, but it also reduces long-term wear and tear.
The Greenworks M-210 can be set up as a bagger, mulcher, or side discharge simultaneously. Mow through the thick grass with the M-210 and watch the magic happen.
Features
Large 21-Inch Steel Deck.
A Brushless motor ensures higher torque, quieter operation, and less wear.
Decent Battery capacity (2.5Ah).
All-in-one design - Mulch, bag, or side discharge clippings as needed.
Dual battery design allows one battery to be charged while the other operates the mower.
The USB port on the battery allows it to be used as a power bank to charge other devices.
7. Craftsman M215 159cc 21-Inch 3-in-1 High-Wheeled FWD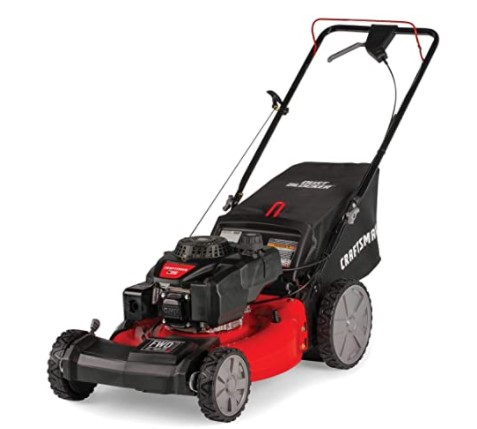 | Power Source | Deck Size | Engine Size | Weight |
| --- | --- | --- | --- |
| Gas Powered | 21 inches | 159 CC | 83 Pounds |
Craftsman has made its name by making excellent lawn mowers, yard equipment, tools, among other outdoor equipment. Craftsman M215 is one of the best push mowers for rough terrain out there. It can take care of medium to large yards making use of the convenience of a nimble gas-powered lawnmower.
The Craftsman M215 is a great lawnmower that comes with a powerful 159cc gas engine. The mower has all the features you require from a mower, mulching, cutting, and side-discharge. The recoil starts with an auto choke to keep the starting swift, quick and easy.
It uses a front-wheel-drive setup with a practical and effective 21-inches sleek Deck to keep mowing easier and quicker. A dual lever allows seamless switching between the six preset height settings. Also, the 7-inch front wheels and the 11-inch rear wheels add excellent traction and control.
At 83 pounds, the M215 possesses the power to be among one of the best push mowers for rough terrain out there.
Features
159 cc gasoline engine with recoil and auto choke.
Pull starter.
3-in-1 capability; side discharge, rear discharge, and mulching capabilities.
FWD allows tip-up, turning, and allows easy maneuvering around level terrain with ease.
Self Propelled lawn mower.
Variable speed offers the ease of movement at desired speeds.
The dual lever allows adjusting between 6 preset cutting heights.
Excellent traction and easy maneuverability thanks to excellent tires.
8. POWERWORKS 60V 21-inch Brushless Push Mower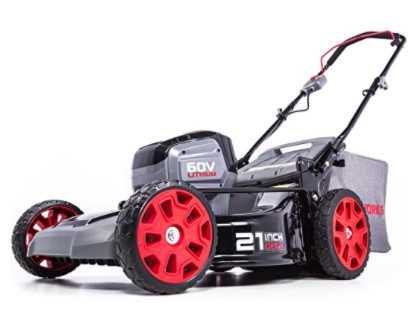 | Power Source | Deck Size | Battery Size | Weight |
| --- | --- | --- | --- |
| Battery | 21 inches | 5.0 Ah | 78.5 Pounds |
Powerworks is a fast-growing company for gardening equipment in the US market. The PowerWorks MO60L513PW is a cordless, 3 in 1 electric push mower with a 60-volt brushless electric motor.
In addition to a 21-inch cutting deck, MO60L513PW delivers superior torque to the durable mower blade. On a single charge, the 5.0 AH lithium-ion battery can provide up to 70-minutes of run time, enough to mow between a quarter to a half-acre lawn.
The battery is a universal one that can be used to power up other tools. This is even more relevant as Powerworks MO60L513PW is one the easiest to store lawnmowers out there. It is also one of the few push mowers for rough terrain that are covered by a warranty of more than three years.
Features
60-Volt brushless electric motor
5.0 Ah lithium-ion battery
70-minute average run time
21-inch cutting deck
7-height positions
3-in-1 versatility
Smart Cut Technology mulcher
Bagger, mulcher, or side discharge
You can store it vertically
The battery is compatible with other tools
Backed by a 4-year warranty
9. CRAFTSMAN 11A-U2V2791 149CC GAS POWERED PUSH LAWN MOWER
| Power Source | Deck Size | Engine Size | Weight |
| --- | --- | --- | --- |
| Gas Powered | 21 inches | 149 CC | 67 pounds |
CRAFTSMAN 11A-U2V2791, cost-effective 3-in-1 gas-powered push mower for rough terrain. Industry-leading 149 cc Briggs & Stratton engine mated to the 21-inch wide cutting blade delivers excellent mowing power. It offers an innovative recoil and automatic choke system for an effortless and reliable starting.
Six preset heights can be switched using the dual lever controls. The preset settings range between 1.25-inches and 3.75-inches.
The 21-inch cutting deck is wide enough to take on any piece of land and the 149 cc engine produces an impressive amount of power to deal with the rough terrain. You can find the Craftsman 11A-U2V2791 best push mower for rough terrain when it comes to the standard handlebar controls to keep you more secure throughout the mowing session. The mower has a collapsible design that makes it extremely easy to store.
Features
Powerful 149 cc engine
3-in-1 Side discharge, mulching, or bagging capabilities
Dust blocking debris bag.
Automatic choke and recoil for easy start-up
Dual-lever for easy height adjustment
Collapses swiftly for quick storage
Can be stored vertically
Backed by a two-year warranty
10. G-Max 20-Inch 40V Cordless Push Lawn Mower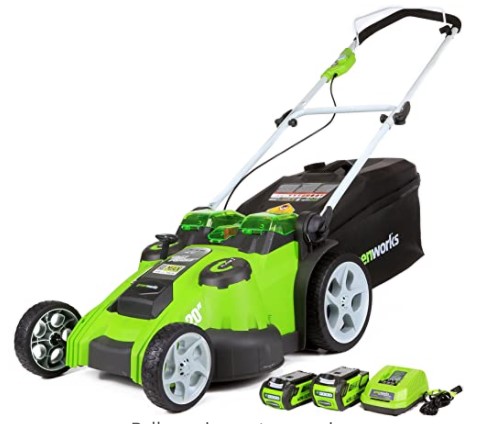 | Power Source | Deck Size | Battery Size | Weight |
| --- | --- | --- | --- |
| Battery | 20 inches | 4.0 Ah | 42.5 Pounds |
This year, get ready to welcome spring with the Greenworks 40V Max System. This efficient cordless battery platform gives you all the power you need to tackle your uneven yard. 
G-Max is a cordless environment-friendly lawnmower from the GreenWorks operated with a 40V Li-Ion Battery. It is a reliable, easy to use, and low maintenance lawnmower with women-friendly features to make mowing easy for women. 
Its 20 inches cutting deck, 2-in-1 feature, and 5 position cutting height makes this mower ideal for women to trim their lawn with ease, efficiency, and comfort.
Therefore, G-Max is a zero-maintenance lawnmower with no pull cords and a mess of fumes. It is a ready start push mower with a simple push of the power button with easy and environment-friendly transportation.
Features
GreenWorks G-MAX has 40V Li-Ion System to power more than 25 tools.

The 20 inches cutting deck allows you easy cleaning and trimming through small to medium size yards.

Its 2-in-1 feature offers rear bagging and mulching capability simultaneously.

6 inches front wheel and 7 inches rear wheel.

5 position height adjustment offers a cutting height range from 1-1/4 inches to 3-3/8 inches for the quality cut with supreme finishing.
11. PowerSmart 170cc Push Mower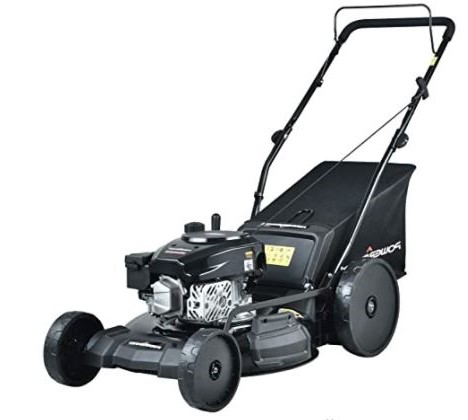 | Power Source | Deck Size | Engine Size | Weight |
| --- | --- | --- | --- |
| Gas Powered | 21 inches | 170 CC | 60 Pounds |
Features
170CC Gas-powered Engine
The 21-inch steel mowing deck
5 step height adjustment ranging between 1.18" and 3.0"
1.4 Bushels debris bag for easy debris collection
3-in-1 side discharge and mulching capability
12-inch rear wheels add superior maneuverability
Three years warranty
Conculsion
Rough terrain can be a bit tedious to mow, but these excellent push mowers for rough terrain can make the whole task extremely easy. The perfect lawn looks and feels perfect. Not only does it add to the beauty of the place but also helps you relax.
A push mower for rough terrain will give you just that. There are some great electric ones, or if you have a bigger area, a gasoline one will do just fine.
Rough terrain is quite difficult to handle by mowers due to the non-uniform surface of the land. We have mentioned and covered all the possible best push mowers for rough terrain available in the market, and each of them has its own unique specialties that make it stand out for a certain application.
Also Read: 5 Best Lawn Mowers for Steep Hills, Slopes, and Banks (2021)