Need to mow a huge piece of land? The enormity of the task can get you a bit worried but with the right zero turn mower, mowing your acres of land will be a breeze.
Not only do the zero turn lawn mowers make the whole activity easy, but they also leave a perfectly mowed field behind that is a treat to look at. Your fields are what welcome you to your property and they make the first impression on the guests. Make sure your first impression is a positive and lasting one by investing in the right zero turn mower.
There are so many great options out there that can confuse anyone. To make things easier for you, we have selected the 5 best zero turn mowers that will perform the best for 5 acres of land and above. Without further ado, let's get started.
In a Rush? Here is Our Top Choice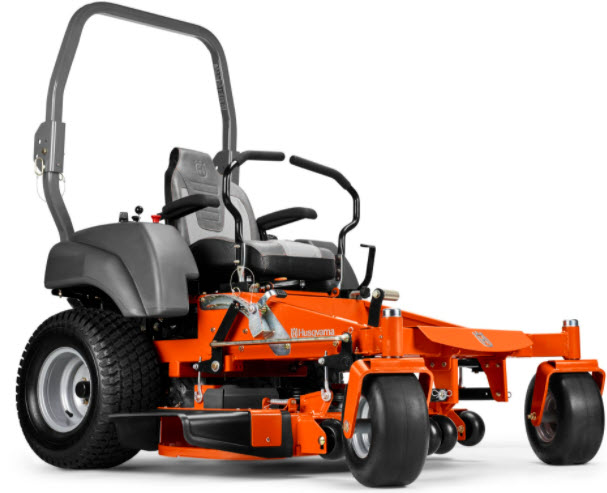 24HP Powerful Kawasaki FR series engine
Huge 61-inch cutting deck
Large fuel Capacity up to 5 gals
Maintenance-free hydrostatic hydro gear ZT 3100 transmission
The pedal-assisted cutting deck lift system
Best Suited for 10 Acres or more
4 Years of the Commercial Warranty
Why Go For Zero Turn Mower For 5 Acres?
Zero Turn mower, as the name points out, has a turning radius of Zero Degrees. These mowers provide the highest cut quality and according to professional landscapers, have the lowest overall cost of ownership.
Zero turn mowers have a huge deck size that a push mower or a walk-behind mower do not offer. That, coupled with the ease of turning, makes it a great option for open fields and areas of 5 acres and even more.
Not only will a zero-turn mower cut down your mowing time and effort, but they're also comfortable to operate throughout the whole process and are generally more durable and reliable than other mower types out there. So, if you have 5 acres of land that you're looking to mow, a zero-turn mower might just be the thing for you.
Best Zero Turn Mowers For 5 Acres
Choosing the best zero turn mower for 5 acres requires a lot of research and the final decision depends on several factors. Our list of the 5 best zero turn mowers for 5 acres will help you decide between the best ones. The list includes:
IMAGE
PRODUCT
DETAILS
 

Top Pick

Husqvarna MZ61
Deck Size: 61 inch
Max Speed: 8 mph
Time: 60 minutes

Editor's Pick

Swisher Big MOW
Deck Size: 66 inch
Max Speed: 10 mph
Time: 45 minutes

Budget Pick

Ariens IKON X-52
Deck Size: 52 inch
Max Speed: 7 mph
Time: 70 minutes
Husqvarna Z254
Deck Size: 54 inch
Max Speed: 6.5 mph
Time: 70 minutes
Ariens Apex-60
Deck Size: 60 inch
Max Speed: 8 mph
Time: 60 minutes
1. Husqvarna MZ61 – Best Zero Turn Mower For 5 Acres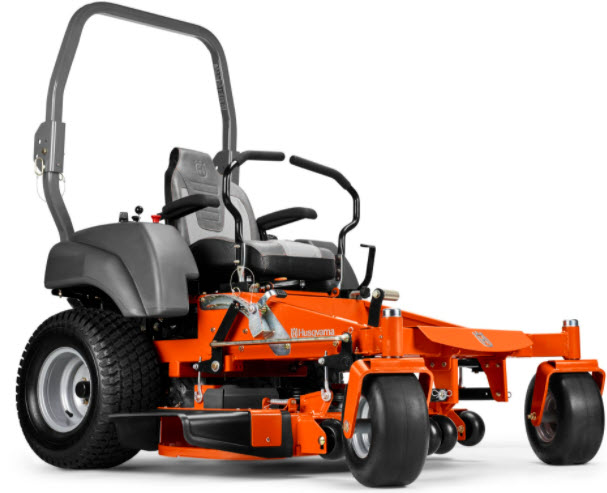 | Engine | Deck Size | Max Speed | Tank Capacity |
| --- | --- | --- | --- |
| 24HP Kawasaki FR730V | 61 inch | 8 mph | 5 gal. |
The Husqvarna Group has been at the center of innovation since 1689 and the MZ61 shows off its manufacturing prowess perfectly. The MZ61 zero-turn mower is best suited for large areas and can easily tackle 5 acres of land in no time.
The speedy mowing process is thanks to the 61-inches large deck size that is mated to a 24HP powerful engine from Kawasaki. The cutting height of the deck has 12-preset cutting settings that can help you get the finest cut grass. At 24HP, the engine is stronger and more capable than any push or walk-behind mower and can help the MZ61 reach speeds of up to 8 mph.
The same model is offered with a Briggs and Stratton motor that produces a little less torque and can save you up to $300 at the cost of that extra 8.5mph. Kawasaki engines are known for excellent torque and power when it comes to power equipment. The whole package is sturdy, offers excellent reliability, and makes mowing 5-acres of land seem easy. Check out Husqvarna MZ61 with Briggs and Stratton motor on Amazon.
The MZ61 has the option to discharge, mulch, or bag the clippings in a seamless and efficient fashion and offers excellent access to all the areas that might require cleaning and maintenance. This commercial-grade zero-turn mower can cover up to 5 acres of land in under 1 hour if you know your way around zero-turn mowers.
This excellent 1 hour of time for 5 acres of land is made possible with the powerful blades and the Hydro-Gear ZT3100 Hydrostatic Transmission that provides effortless mowing over flat and bumpy terrain alike. The transmission also ensures a smooth ride through the whole process. To make things even better, Husqvarna has included a great seat that has vibration dampeners and offers support to the operator's back.
The MZ61 is quick, efficient, reliable, and has a low cost of operation and ownership. All these great features add up to provide an excellent experience that is hard to find elsewhere. You'll be able to zoom through 5 acres with this zero-turn mower in no time once you get the hang of the exceptional speed and maneuverability.
Also Read: Husqvarna MZ61 – Why It's the Best Commercial Zero Turn Mower
Features of the Best Zero Turn Mower For 5 Acres
Dependable and durable 24HP Kawasaki FR series engine.
Fuel tank with a fuel capacity of 5 gals.
61 inches heavy-duty deck with 12 adjustable heights ranging from 1.5 inches to 4.5 inches.
Maintenance-free hydrostatic hydro gear ZT 3100 transmission with hydro wheel drive system for max. speed of 8 mph.
Standard air and oil filters allow for easy maintenance and keep the engine operating optimally.
Durable 6-inch-wide front caster wheels and 2″ x 3″ tube chassis that adds to the overall strength and sturdiness of the frame combined with large rear and front tires.
A pedal-assisted cutting deck lift system is highly convenient.
4 Years of commercial warranty.
Bottom line
The Husqvarna MZ61 packs all the bells and whistles that you'll need from a zero-turn lawn mower if you're looking to mow 5 acres of land. It has the excellent build quality and is made to last. The 12-way height adjustment coupled with the capable motor from Kawasaki means that your 5 acres will have the best-looking grass in no time. Give your field the love it deserves with a capable zero-turn mower like Husqvarna MZ61.
2. Swisher Z3166CPKA Big MOW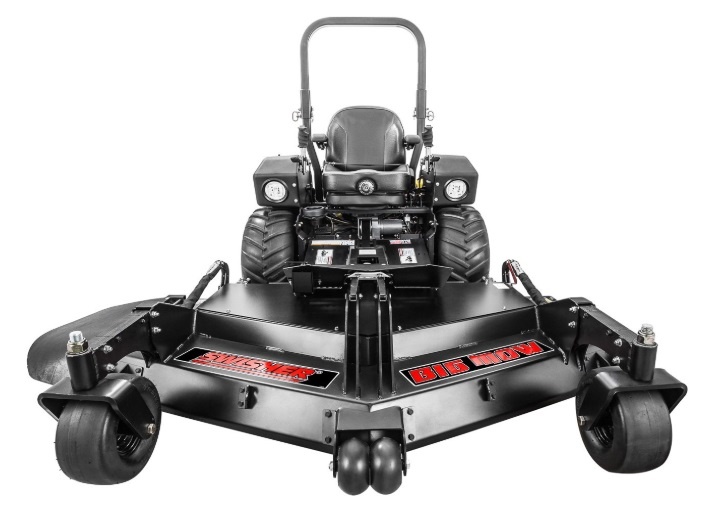 | Engine | Deck Size | Max Speed | Tank Capacity |
| --- | --- | --- | --- |
| 31HP | 66 inches | 10 mph | 8 gal. |
If the Husqvarna MZ61 is not powerful enough for you and you're ready to dish out some extra money, the Swisher Big Mow Z3166 offers a larger 66 inches deck and a stronger 31HP engine. The 66 inches deck is fabricated welded and houses 3 mulching blades that can even handle wild grass and undergrowth.
The Z3166's large deck and powerful motor make it a popular choice for commercial mowing purposes as it can easily reach speeds of up to 10 mph. The whole mower was built with commercial-grade activities in mind, as it has an electric deck raiser for easy maintenance and also features an electric height adjustment option. The tires on the Z3166 are 23" and can mow your 5 acres of land in less than 45 minutes and thanks to the large 8-gallon fuel tank capacity you won't have to worry about refueling throughout the whole process. Another commercial-grade feature includes the hour meter that can keep track of time.
The zero-turn mower complies with all applicable safety and environment-friendly standards and is one of the most sturdy options out there. The seat design and the LED headlights are well thought out as the seat is extremely comfortable even through the mowing process and the L.E.D. lights let you take care of stuff even through the night. Even if you store the Z3166 under the sun or it comes in contact with a dust storm, the engine is well covered and will not get damaged.
If it were not for the steep price point it would definitely overtake the Husqvarna MZ61. The Z3166 is more than twice as expensive as the Swisher's Big Mow Z3166CPKA. The electric flip-up maintenance feature, the cup-holders, and the 12V port on the mower do present a strong case but if you're not looking to letting out your mower when not in use, then dishing out an enormous amount of money for an extra 7 HP does not make much sense.
Features
Secured a Rapid Response Control system for enhanced comfort and control.
Commercial Grade 31HP 4-cycle 2-cylinder Kawasaki engine with electric start.
8 gal. of fuel capacity.
Hydrostatic Hydro-Gear 3400 transmission makes mowing through wild grass and undergrowth easy and efficient.
A maximum speed of up to 10 mph.
Electric Power Take-Off (PTO) technology.
66 inches fabricated front mount cutting deck with Commercial grade, heavy-duty, welded steel frame.
Height adjustment from 1.25 inches to 5 inches.
Extended warranty for up to 5 years.
Bottom line
The Swisher Big Mow Z3166 can tackle the toughest jobs in all challenging areas. Your 5-acre field is not a problem for this versatile zero-turn mower. The commercial-grade build and design ensure that the mower is durable, efficient and will get the job done in no time. Electronic height adjustment and flip-up maintenance bay allow for easy maintenance sessions and the well-thought-out seat design means your mowing sessions will be smooth and enjoyable.
3. Ariens IKON X-52 – Best Zero Turn Mower for 5 Acres in Budget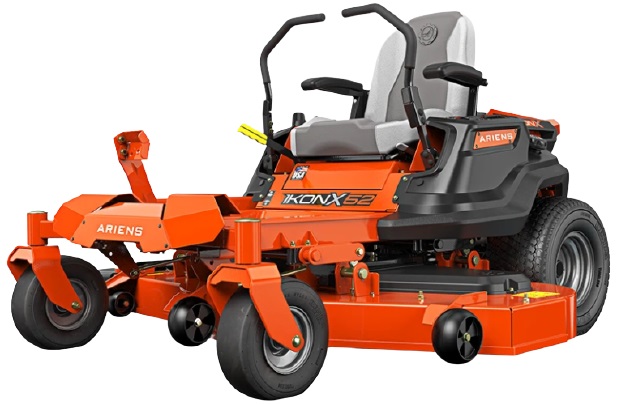 | Engine | Deck Size | Max Speed | Tank Capacity |
| --- | --- | --- | --- |
| 23HP Kawasaki FR V-Twin | 52 inch | 7 mph | 2.8 gal. |
If you're looking for the same cut quality as the Husqvarna and Swisher but do not want to spend an astronomical figure on your zero turn mower, then the Ariens IKON-X 52 is a commendable option. It will mow through your 5-acre field in about an hour or so and will save you a lot of money.
The zero-turn mower has a 52-inch deck size that is mated to a Hydro-Gear transmission and a Kawasaki 23HP FR series 4-cycle engine. This combination makes the mowing process seem easy and makes it super-efficient. Granted, the IKON-X 52 won't be as quick as the Husqvarna or the Swisher because of the reduced deck size of 52 inches and the reduced top speed of 7 mph, but for the price, it more than makes up for it by offering fine-quality cuts, excellent traction, and a dependable build.
It is one of the most lightweight options out and features an automatic parking brake when not in use. User-centric changes like a comfortable seat with armrests and reduced vibrations make it a good option that offers commercial-grade clipping at the price range of a residential zero-turn mower. The oil filter is user-serviceable and the mower comes with an option of a 3 or 5 years extended warranty. The limited fuel capacity of 2.8 gallons is a bit less to the liking of landscaping professionals.
Also Read: Ariens IKON X 52 Review – Why It's the Best Residential Zero Turn Mower
Features
23HP Kawasaki FR-series V-twin engine with 4-cast-iron cylinders.
Hydro-Gear transmission with EZT Transaxles allows the mower to move up to max. speed of 7mph.
Fuel capacity of 2.8 gallons
User-replaceable oil filter.
52 inches thick, heavy-duty, commercial-grade fabricated 11-gauge steel deck with 3 blades.
Comfortable deck assists for deck lift with 13 different height adjustments ranging from 1.5 inches to 4.5 inches.
Automatic parking brakes.
4-point commercial hanging style deck suspension to provide an even and leveled cut.
3 Years Limited Consumer warranty on the machine 5 years limited warranty for the deck.
Bottom line
If you're looking for the same quality of cuts as a commercial-grade zero turn mower but are not willing to dish out as much cash, the Ariens IKON-X52 might just be the thing for you. At 7 mph, it is not the fastest zero turn mower for 5 acres but will get the job done in style thanks to its strong engine and capable transmission. The design is user-centric and features reduced vibrations and the addition of armrests on the seat make the mowing sessions a bit more comfortable.
4. Husqvarna Z254 ZTR Mower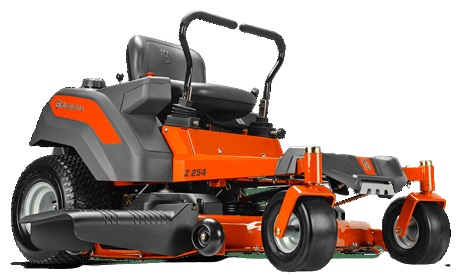 | ENGINE | DECK SIZE | MAX SPEED | TANK CAPACITY |
| --- | --- | --- | --- |
| 26 HP | 54 inches | 6.5 mph | 3.5 gals. |
Husqvarna's power equipment prowess can be gauged by the fact that it has not one, but two offerings in the top 5 bracket. The Husqvarna Z254 is another commendable offering from the celebrated Swedish manufacturer which is not as fast or big as the MZ61 but gets the job done adequately. The Z254 has some watered-down features as compared to the MZ61 but is excellent in performance and function just as its sibling.
The deck size is 54 inches and will mow your 5 acres of land in about an hour. It can reach speeds of 6.5 mph and has a fuel tank capacity of 3.5 gallons. The fuel tank capacity is not as high as some landscaping professionals prefer as you might have to get a refuel before every session but can last through 5 acres on a single tank thanks to the fuel-efficient 26 HP engine.
The Swedish manufacturer likes to use the different engines in different models and the Husqvarna Z254 is no different. Where the MZ61 comes with either a Briggs and Stratton or Kawasaki motor, the Z254 features a quality 26HP offering from Kohler. The engine is fuel-efficient and offers a simple starting mechanism. The engine uses 2-cycle technology as compared to the 4-cycle on most mowers on this list. It is not generally a bad thing but it does require a 2-cycle oil.
The transmission on the zero-turn mower is the same as all top commercial-grade mowers, it features an EZT Hydro-gear transmission that can move the mower around comfortably in most terrain. The ClearCut 54 inches, 12-gauge deck mows the grass neatly and offers a smooth pleasing look.
Read In-Depth: Husqvarna Z254 Review
Features
26HP Kohler, 2-cylinder engine with 12 volts lead key start.

Ready-start Endurance engine with a rear engine guard to protect the engine from dust and other pollutants.

12-gauge clearcut fabricated durable 54 inches cutting deck using Spring-Assisted Deck Lift to adjust the cutting height ranges from 1.5 inches to 4 inches.

5 gal. fuel capacity with a spin-on oil filter to keep the engine active and reliable.

Hydro-gear EZT drive system with hydrostatic transmission provides max. speed of 6.5mph.

Automatic Mechanical Brake technology.

It offers 3 years homeowner warranty.
Bottom line
The Z254 brings the best of both worlds together in an affordable yet capable motor. The engine is efficient and strong enough to mow through 5 acres of land. The transmission offers smooth operation and the 54 inches commercial-grade deck is excellent for mowing grass on most terrain. If your 5 acres field is a bit steep, then this is not the best mower as it can lose traction and can leave behind a rough patch or two that you'll have to return to later. For every other place, it is the best option that will last you a long time thanks to its durable build, strong engine, dependable transmission, and a respectable top speed of 6.5 mph. There are some quality safety features too like automatic parking brakes and a vibration-resistant seat.
5. Ariens Apex-60 Zero Turn Mower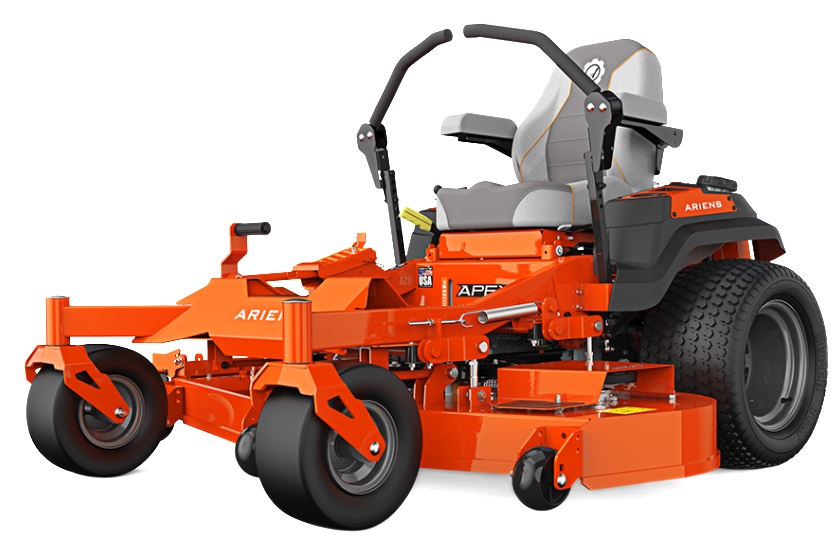 | Engine | Deck Size | Max Speed | Tank Capacity |
| --- | --- | --- | --- |
| 24HP Kawasaki FR V-Twin | 60 inch | 8 mph | 5 gal. |
Ariens is like the US counterpart of Husqvarna and our final choice for the best zero turn mower for 5 acres brings us to the Ariens Apex 60. The Apex 60 brings a 60 inches deck size that is mated to a 24HP Kawasaki FR series engine. The combination is excellent as it can mow through most terrains comfortably and thanks to the Hydro-Gear ZT-3100 transmission it can reach a speed of 8 mph.
If you're on a budget and want to buy into the commercial-grade quality, then the Apex 60 is the perfect choice for you. It is one of the fastest zero-turn mowers on our list and is definitely a recommended buy as it offers commercial-grade precision cuts at the price point of a residential one.
The Kawasaki motor is widely used in the power equipment industry and offers excellent efficiency and performance. This zero-turn mower for 5 acres will get the job done in about 45 mins. The ample fuel storage capacity of 5-gallons makes it stand out from other offerings on the market.
The Apex 60 offers excellent cut quality, and the deck height can be adjusted through the foot-operated deck lift system. There are 15 pre-set settings between 1.5 and 5 inches that will tailor your 5-acre field according to your preference. The deck also features 6 deck wheels that make the movement of the Apex 60 a breeze.
There are some excellent safety features on the Apex 60 as well if offers an adjustable seat with a belt tension technology that will keep you seated safely. There is a seamless braking operation that makes everything much simpler. The mower comes with a 500-hour machine warranty and a 5-year warranty for the deck.
It would have ranked a lot higher on our list had it not been for some vibrations and rattling. The quirks do not interfere with the function which is excellent and is better than most offerings on the market. The price point is also comparable to some of the residential zero-turn mowers on the market.
So, if you can make peace with the vibrations, which might seem normal to a layman but are a bit high according to landscaping experts, then this zero-turn mower can be the best for 5 acres as it offers commercial-grade features at the price point of a residential one.
Read In-Depth: Ariens Apex 60 Review
Features
Kawasaki FX-Series, V-Twin Engine of 24HP.

The maximum speed of 8 mph with Hydro-Gear ZT-3100 Transaxles Drive system.

5 gals. of fuel space for a long cutting session.

10-gauge fabricated steel deck of 60 inches with a tubular frame and Electric Ogura deck engagement.

A 4-point commercial deck-hanging system with 6 deck wheels.

Advanced foot-operated deck lift system with adjustable 15 cutting heights from 1.5 inches to 5 inches.

Adjustable back seat with padded armrests and Belt tension technology.

Available with 4 years or 500 hours of machine warranty with a limited deck warranty of 5 years.
Bottom line
The Apex-60 is an excellent built zero-turn mower that can give a lot of other mowers a run for their money. It packs an excellent combination of features that will deliver the desired flawless grass on your 5 acres in no time. The commercial-grade quality at the price of a residential one makes it a great buy if you can live with a rattle or two sometimes.
Conclusion
Therefore, This list of best zero turn mowers for 5 acres is carefully drawn up after considering all the important aspects of a zero-turn mower and a large area like 5 acres. Not all zero-turn mowers are good for 5 acres so we did the research and narrowed down the options for you.
All of the above-mentioned mowers are durable, offer comfortable mowing sessions, pack excellent features, and won't interrupt your mowing sessions. If you'd like to save some money and can compromise with a rattle or two, the Apex-60 is a worthy choice. Or if you prefer a solid build that is right in the middle of commercial and residential offerings the Husqvarna MZ61 is a great option. While most functionality is the same, all of these offer some added features that help them stand out.