Buying a zero turn lawn mower is just like shopping for a vehicle. Some people want a buy a luxury vehicle for a smooth ride and unique features, whereas others want a cheap car to get them around. So, like vehicles, there are best zero turn mowers under 4000 offering fast and easy mowing that mows lawn quickly by providing a comfortable ride.
On the other hand, cheap zero turn lawn mower can mow the flat and smooth lawn. Zero turn lawn mowers are best known for the power, maneuverability, and speed, which makes them a perfect choice for mowing large plots. Mowers steer the rear wheels with their lap bars and can also pivot 180-degrees cutting the grass entirely from the surface. They are made to cut carefully around the obstacles with a speed of about 7 miles per hour.
In simple words, ZTR (zero turning radius) are similar as they all perfectly cut grass, but each model offers different quality of components, speed, and comfort level. There are many zero turn lawn mowers brands on the market, which makes it hard for you to select the best one. After days of quality research, we have compiled the list of the best zero turn lawn mowers under 4000, taking performance, quality, features, and price into account.
Top 11 Zero Turn Lawn Mower Under 4000
With over 168 hours of in-depth research, we have listed the best zero turn mower under 4000 based on many factors.
Husqvarna Z254 Zero Turn Lawn Mower
Ariens 915213 Zero Turn Lawn Mower
Snapper 360Z Zero Turn Mower
Ariens Zoom 34 V Twin 19 HP Zero Turn Mower
Troy-Bilt Mustang 46 Zero Turn Mower
Ariens 915223 IKON X 52" KAWASAKI
Troy Bilt Mustang Fit
Craftsman Z560- Best Turning Radius
Husqvarna Z242F
Ariens IKON X 42 Inch
Husqvarna Z142
1. Husqvarna Z254 Zero Turn Lawn Mower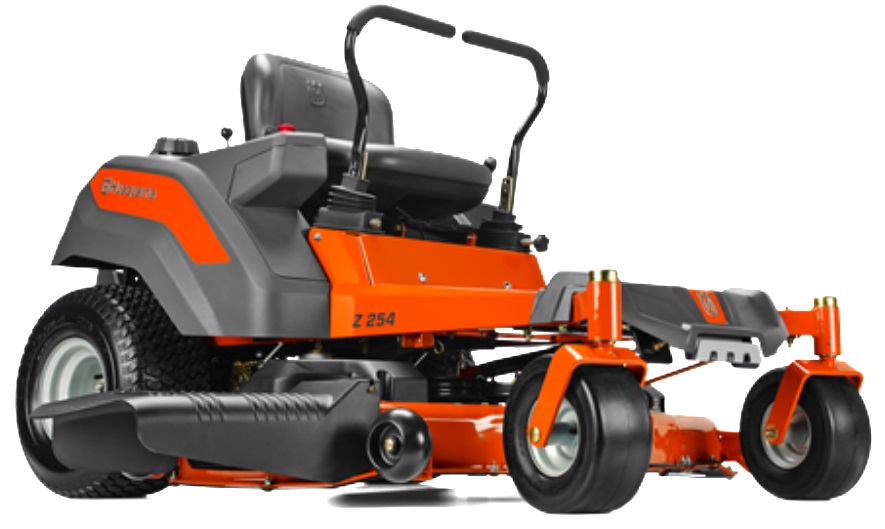 | Engine | Max Speed | Cutting Deck |
| --- | --- | --- |
| 26 HP Kohler's | 6.5 mph | 54" reinforced steel |
Husqvarna specializes in lawn mowers and has been producing the most delicate pieces with great features. The Z254 lawn mower is a perfect combination of reliability and usability. It stands on top of our list of best zero turn mower under 4000. It features a 26 HP Kohler engine and is V-twin kind. Kohler is amongst the top engine manufacturers in the lawn mowing world, and the V-twin offers fewer vibrations as compared to a single-cylinder engine. The mower can reach a high speed of 6.5 MPH with an automatic choke system for a quick start.
With its superior air induction mowing technology, the air is drawn from the top and bottom of the deck to ensure proper grass movement and a perfect grass cut. The enhanced airflow prevents the engine from heating, and thus increases its life. It has a 54" durable reinforced steel cutting deck, which can be hydraulically adjusted to 4 heights. The mower also includes a well-made plastic discharger to throw away the grass with the mulching and bagging ability, but you have to buy kits separately.
Another cool feature is a parking brake that helps the mower to be parked comfortably, even at slopes. Just pull the steer levers outwards to apply the brake. There is also an anti-slip footpad on the front to improve the utility of the mower. If you want to carry an energy drink with you, there is a cup holder for your convenience.
2. Ariens 915213 Zero Turn Lawn Mower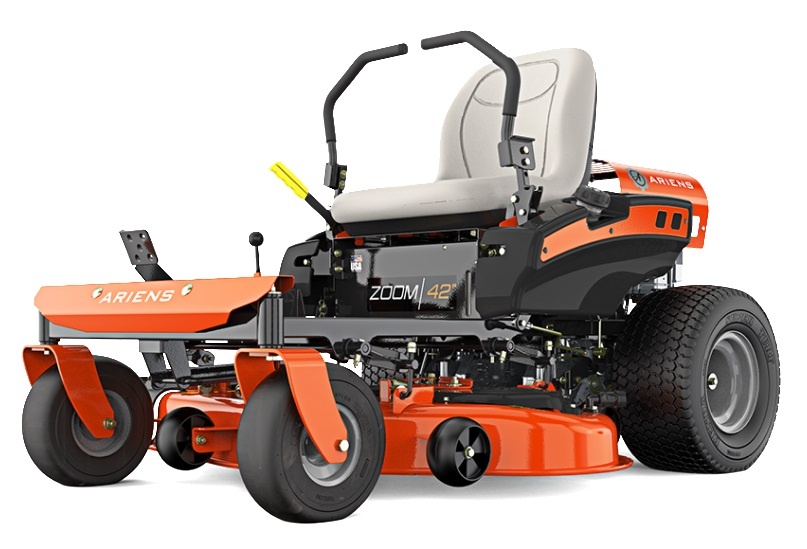 | Engine | Max Speed | Cutting Deck |
| --- | --- | --- |
| 19 HP | 6 mph | 42" |
With 19 HP Kohler engine that needs minimal maintenance in terms of air blowing and oil change, the Ariens Zoom 42 is an affordable zero turn lawn mower. It has 42" cutting deck made of 12 12gauge steel and self-adjustable belt-tension technology to keep the belts at required tightness. The sturdy steel deck can withstand all weathers, so you don't need to worry about the rust issues. It can cut grass from 1.5 to 4.5 inches. The wash-out port permits the water hose insertion, so the clippings get eliminated from the deck and avoid blockage.
Another versatile option is the comfortable seat with armrests that are adjustable in three directions. A slid-able seat offers ideal comfort for different size riders. To absorb vibrations and give you a smoother ride, the control levers are linked with dampers. With excellent braking, the mower is safe to use. Overall, it is a great, affordable zero turn mower with the best customer service.
3. Snapper 360Z Zero Turn Mower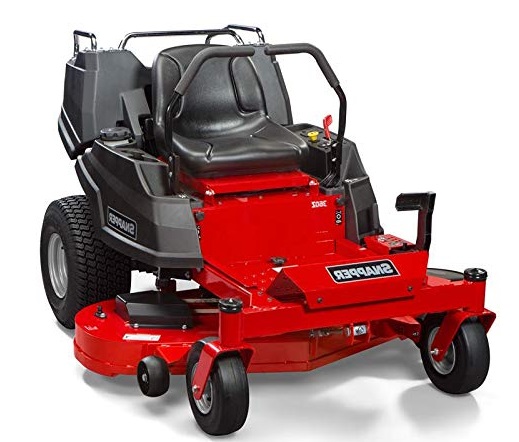 | Engine | Max Speed | Cutting Deck |
| --- | --- | --- |
| 23 HP | 5 mph | 48" |
The Snapper 360Z is one of the most versatile zero turn lawn mowers available on the market. This zero turn lawn mower features a 50 lbs cargo bay at the back to haul a variety of tools and to landscape easily. With 48 inches cutting width, it has 23 horsepower Briggs & Stratton Professional Series engine. The Snapper 360Z is highly durable with a fully welded 12-gauge steel frame.
It also has an adjustable mid-back seat height that offers rider plenty of comfort options. The foot-operated deck lifts with 13 cut heights that range from 1.5 to 4.5 inches. The mower includes commercially inspired features like thick-walled front axle, fully welded steel frame, durable steel mower deck, and easy access maintenance points to make sure you get the best cut, time after time. Also, the integrated rear cargo offers on-the-go versatility and convenience out in the yard.
4. Ariens Zoom 34 V Twin 19 HP Zero Turn Mower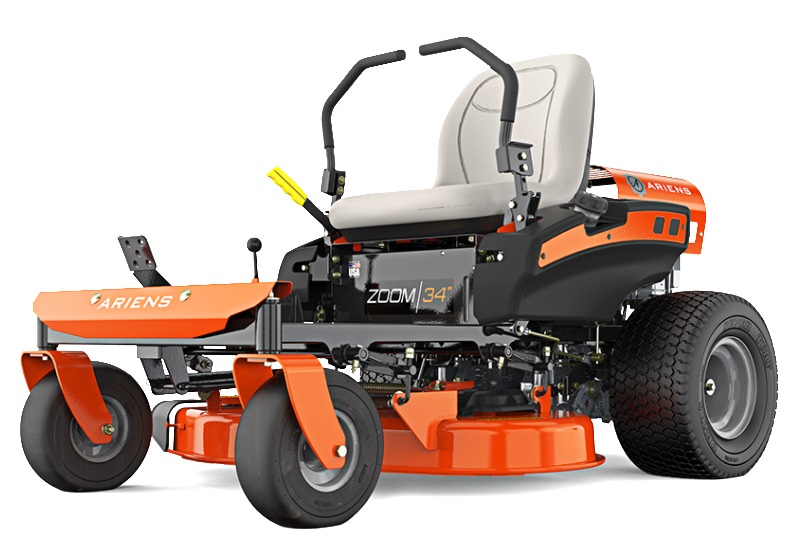 | Engine | Max Speed | Cutting Deck |
| --- | --- | --- |
| 19 HP Kohler | 6 mph | 34" |
The most exciting feature of this mower is its 19 HP 6000 Series Kohler engine with a three-year warranty and good grade oil filter to keep all components properly lubricated and free from wear. The engine is supported by a versatile hydro-gear EZT transmission that compensates for an excellent performance. The fuel capacity of the tank is 2 gallons, which are decent for such small lawn mower.
The deck is made from durable 12-gauge steel and stamped with an anti-slip footrest. The wash port is connected to the water hose for washing the trapped clipping away. A total of three blades are integrated into the cutting deck. They can be raised to seven heights ranging from 1.5 to 4.5 inches. The mechanical lever controls the settings of the height. The deck also supports a mulching kit with a bagging facility. An 18 inches seat height gives you a beautiful look of the grass. The zero turn lawn mower is sturdily made with premium quality steel and hard plastic. The connectors are padded with rubber washers to prevent wear and noisy operation.
5. Troy-Bilt Mustang 46 Zero Turn Mower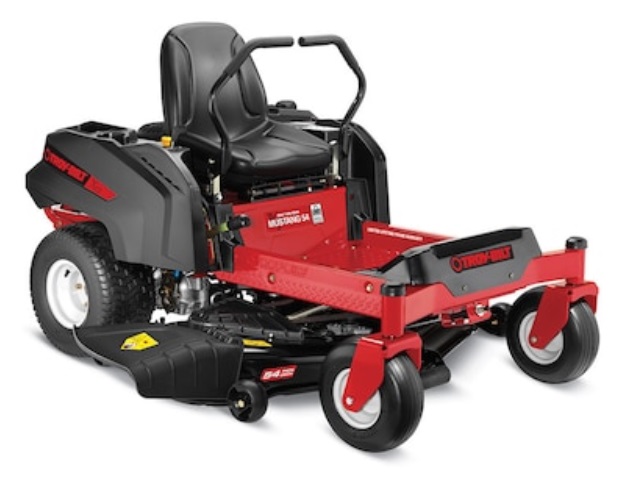 | Engine | Max Speed | Cutting Deck |
| --- | --- | --- |
| 24 HP | 7 mph | 46" |
Manufactured from the strong combination of steel and hard plastic, Troy-Bilt Mustang is powered by a 24HP Briggs & Stratton engine. This zero turn lawn mower ha 46-inch steel deck can easily mow an area of 2.4 acres in only 1.5 hours, which is quite impressive. Offering a max speed of 7 MPH, the V-twin engine is best for flat lawns. It also includes PTO (Power Taking Off) featured to allow fast blade engagement. The eight cutting height adjustments are controlled manually with a lever.
Durable 4 wheels include 2 big rear and 2 front castor wheels for maneuverability. These wheels ensure 360-degree maneuverability so that you can perfectly mow even tiny portions of your lawn. For the user's comfort, on the right side, there is an 18-inch back seat. The stamped base is strongly connected to the bolts and doesn't cause any vibration during operation. There are all three cutting options available, but you have to buy a mulching bag separately.
6. Ariens 915223 IKON X 52" KAWASAKI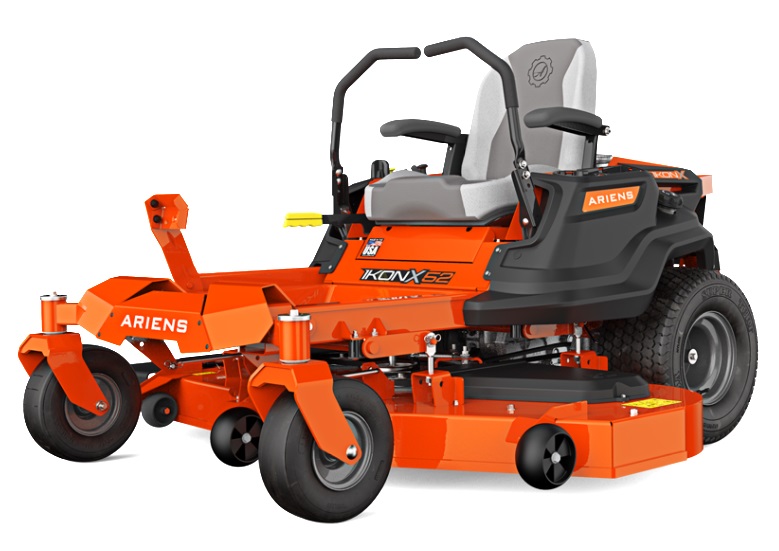 | Engine | Max Speed | Cutting Deck |
| --- | --- | --- |
| 23 HP | 7 mph | 52" |
If you are looking for the best zero turn mower under 4000, this Ariens AKON X 52 is an excellent combination of power and comfort for medium to large yards. It is powered by a 23 HP Kawasaki FR V-Twin engine. The high-back padded seat along with the armrests means you can comfortably ride for more extended periods. It has a 52" cutting deck, which is 4.5 inches deep and created from 11-gauge fabricated steel.
One of the best things about IKON-X 52 is that it can easily make short work of the challenging mowing tasks. The fabricated deck features three blades with a dial-operated cutting height selector. Another attractive feature is the improved foot-operated deck lift; it allows 13 cutting height positions that range from1.5" to 4.5" in short increments. Ease and durability of use are two essential aspects of this zero turn lawn mower. It also has twin EZT hydrostatic transaxles, which not only improve the response time but also make controlling the trimming procedure significantly more manageable.
Read Complete Review On Ariens IKON X Here
7. Troy Bilt Mustang Fit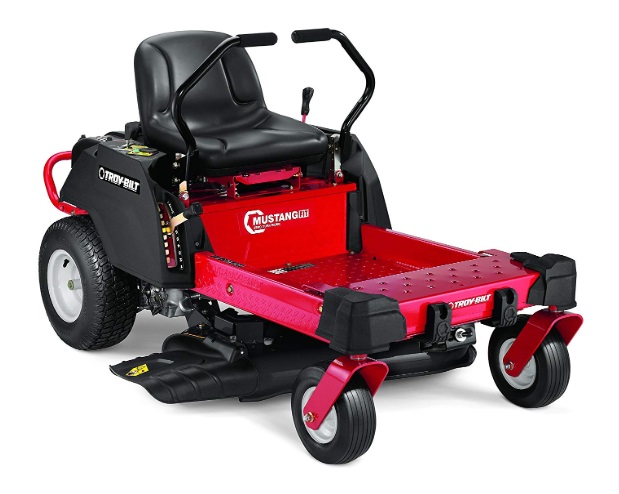 | Engine | Max Speed | Cutting Deck |
| --- | --- | --- |
| 452 cc | 6 mph | 34" |
Troy Bilt Mustang Fit can comfortably cover a maximum area of about 0.5 to 0.7 acres. The compact design is perfect for mowing small lawns for its 34-inch deck and dual EZT hydrostatic transmission controlled by the two handle levers. The steel deck stamped is fairly box-shaped, along with an abrasive footpad and study connections. A powerful 452cc engine allows a forward and reverse speed of 6MPH. There are a total of 8 height adjustments present on the right side and also deck wash for cleaning.
A cup holder is there to keep you energetic and hydrated. There is a high back seat featuring dual suspension to offer an ideal comfort level on long rides. For additional safety, it has a parking brake that stops the mower.
8. Craftsman Z560- Best Turning Radius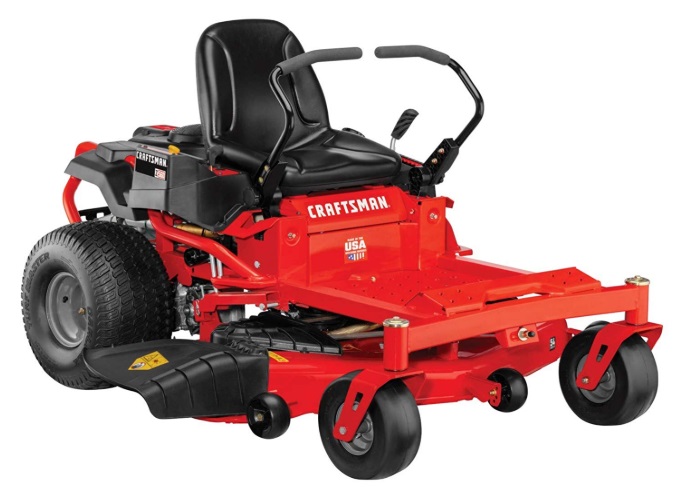 | Engine | Max Speed | Cutting Deck |
| --- | --- | --- |
| 24 HP | 5 mph | 54" |
This heavy-duty mower by Craftsman features a 3-gallon fuel tank with a 24.5 HP 708cc engine. With its 54 inches wide cutting deck, it performs, trimming, cutting and clipping in one quick sweep. Its self-cleaning air filter system improves the life of the air filter and the engine. The suspension system also has a suspended operator platform with adjustable rear shocks.
The mower has 13 cutting positions that range from 4.5" to1.5" in height. Its Hg transmission is linked with a 24 HP Briggs and Stratton gas engine along with the quick start to enhance the performance. You can easily find this engine in leading commercial zero turn mowers. For increased power, there is V-intake and barrel carburetor. One of the best features of the engine is that it provides from usual bumps when you are operating even at very high speeds.
9. Husqvarna Z242F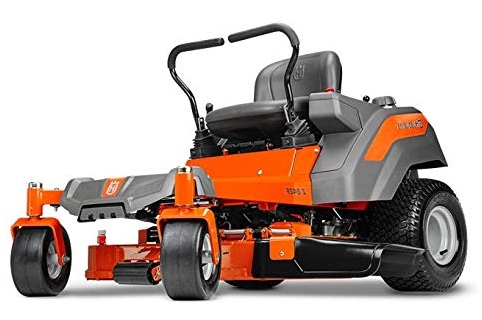 | Engine | Max Speed | Cutting Deck |
| --- | --- | --- |
| 18 HP | 5 mph | 42" |
With signature orange color tone, Husqvarna Z242F comes with 54 inches cutting that is ideal for trimming big flat lawns. It features heavy-duty wheels to handle the rough terrains. With 26 HP Kohler engine and a max speed of 6.5 MPH, it also has a patent-pending park brake system. The system activates or deactivates when the steering levers are moved inward or outward.
The mower also includes a full pressure lubrication system along with a spin-on filter. You can effortlessly mow about 2.8 acres per hour with a 3.5-gallon fuel tank at a speed of 6.5 miles per hour. The air induction mowing technology draws air from the bottom and the top of the deck, increasing grass and delivering a supreme cut to your lawn. The reinforced steel stamped cutting is made of heavy 14-gauge welded steel turning for high durability. If you are mowing early in the morning or in the dark, LED Headlight is there to help you.
10. Ariens IKON X 42 Inch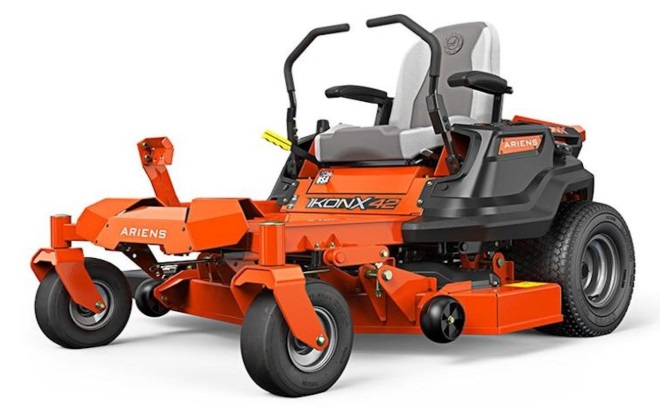 | Engine | Max Speed | Cutting Deck |
| --- | --- | --- |
| 22 HP | 7 mph | 42" |
Another masterpiece by Ariens, IKON X 42, is a powerful zero turn mower with 22 horsepower engine. It is made to deliver premium cutting performance at such an affordable price. With 7 MPH of fast speed, this zero turn mower can breeze through the lawn with its powerful Kohler 7000 series engine. You can choose from 13 different cutting heights that range from 1.5 to 4.5 heights. The 42 inches fabricated mowing deck improves airflow the deck to offer an optimal cut.
It's Hydrostatic Hydro-Gear transmission removes shifting while reaching the forward speed of about 7 mph. Other attractive features include a plush high back seat, cup holder, armrests, and fuel sign gauge. Also, the mower comes with a 3-year residential warranty and 3 months commercial warranty.
11. Husqvarna Z142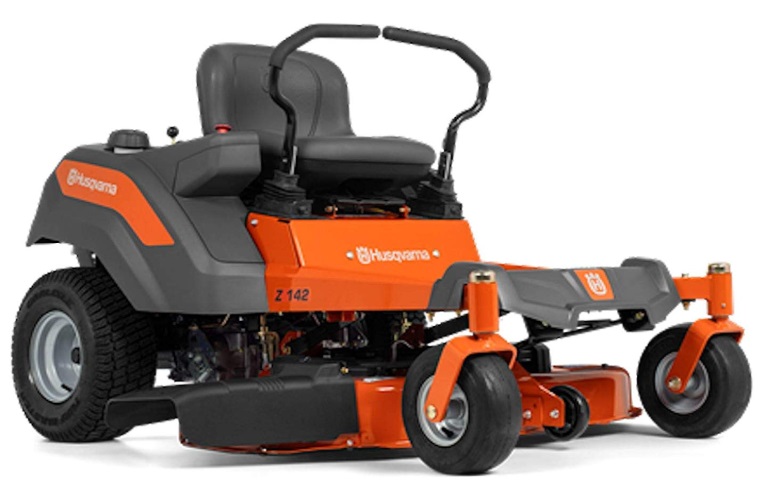 | Engine | Max Speed | Cutting Deck |
| --- | --- | --- |
| 17 HP | 6.5 mph | 42" |
Featuring 42 inches wide cutting deck, it allows enough surface area for cutting and is reinforced with premium flat-stock steel for maximum durability. It has a 17 horsepower Kohler engine with a top speed of 6.5 mph. It features a hydrostatic transmission that needs zero maintenance, thus allowing you to save up on money. Just like all other high-grade Husqvarna models, Z142 also features an air induction mowing technology that effectively draws air from top to bottom on the deck.
You will surely love the maneuverability of this zero turn mower. The patent-pending park brake system activates or deactivates automatically when the steering levers are moved inward or outward. Other attractive include an ergonomic control panel, a comfortable seat, and an anti-slip foot area to make mowing intuitive and safe.
Things You Should Know Before Buying a Zero Turn Mower
Before buying a zero turn mower, there are many important things to consider, especially if you are buying for the first time. Here are some crucial things you must know before making the decision and investment.
Residential Mowers
Entry-level or residential mowers are best for an average homeowner. Such mowers are commonly less expensive and smaller in size but still powerful enough to get the job done.
Prosumer Mowers
Mid-grade or Prosumer mower comes with more engine power with a full cut width to cover maximum space.
Commercial grade mowers mostly used in parks and golf courses. They feature all the whistles and bells, including potent motors, a wide deck, and large fuel capacity. But you have to pay more for such lawn mowers.
Deck Size
The deck size should correlate with your property size you are trying to mow. A large deck covers a wide area with each pass to make the job faster. For smaller properties, especially the one with a patio or landscaping, a small deck offers the maneuverability and compact size you need.
Motor Size
There are two types of motors available in Zero turn mowers
Single cylinder
Single-cylinder motors are relatively affordable, but they are noisier and less powerful.
V-twin
V-twin motors are quieter, more powerful and offer better gas mileage.
Besides power, don't forget to consider the lawn cutting needs. For a large property, select the V-twin engine and let the grass grow longer between the cuts. A mower with a V-twin engine lasts longer, performs better, and cuts down on the mowing time.
If you have a small property with shorter grass, go with the single-cylinder engine. They are affordable with adequate speed and horsepower for such features.
Durability
Everyone wants their zero-turn mowers to last longer. Pay special attention to the deck material. Commonly, the decks are made of either stamped or fabricated metal.
The fabricated deck is more durable and made from heavy grade steel. They are expensive and mostly found on premium grade mowers.
Stamped decks are much lighter, less durable, provide better airflow, and are best for mulching and bagging. They are affordable and are found on entry-level mowers.
Steering Style
They are many types of steering styles on mowers to include a steering wheel, lap bars, and joystick.
Steering wheels are mostly found on traditional riding mowers. But they are also available on zero turn mowers too. However, steering wheels on such mowers don't always offer a full 360 turning radius. It is essential to read the specifications carefully.
Lap bar steering utilizes two levers to control the mower rear wheels and move them forward and backward.
Joystick steering is similar to the joystick of the video game controller.
Comfort
Riding mowers are made to minimize the strain on your body as compared to push mowers but still make sure your ride is comfortable. Consider aspects such as deck lift operation, armrests, and seat back height. The longer you ride on the mower, the more significant these factors become.
Accessories
There are many accessories for the zero turn mowers that can help to make the job easier. The most popular are mulchers, baggers and rollers.
Rollers can flatten bumpy lawns and also pack down topsoil or new seed.
Mulching kits help recycle the lawn clippings and spread them back on the grass. It helps to keep grass lush and nutrients.
Baggers are attached to the mower back to pick up grass clippings.
Best Mower Brands
No matter what lawn mower you select for your yard, you should know what are the best mower brands on the market? Here are the top 3 mower brands.
Husqvarna
Husqvarna belongs to Sweden but the headquarters are located in Austria. The brand offers a wide range of quality outdoor products and other heavy machinery for different purposes. The Husqvarna lawn mowers are incredibly popular in the gardening world for their durability and performance.
Troy-Bilt
Best known heavy-duty riding mowers, the Troy-Bilt is brand loved for the best value they provide. This best mower brand produces high-quality products but in an affordable price range thus allowing them to appeal to practical customers. Troy-Bilt best zero turn lawn mowers can be really effective to mow your yard quickly and effectively.
Poulan Pro
Poulan Pro is a trusted brand for high-quality lawn mowers. Such products are versatile in nature as compared to other mower brands.
Conclusion
Zero turn mowers transform your lawn mowing experience, gives you better and faster results than you can get with the traditional or push riding mower. If you want to take it one step further, look for some of the accessories such as baggers, mulchers, and rollers. These tools are best to ease cleanup and improve the capabilities of the mower. But Zero turn mowers are expensive, need more dedication and money for proper maintenance. Before you buy a mower, carefully survey your land first and take measurements of slopes, clearings, and alleys and then select the zero turn mower for your lawn.