Zero-Turn Mover is the right choice if you are deciding to buy a new mower or to replace the old one with another mower. We have brought the best guide on choosing the most powerful zero turn mower in 2020.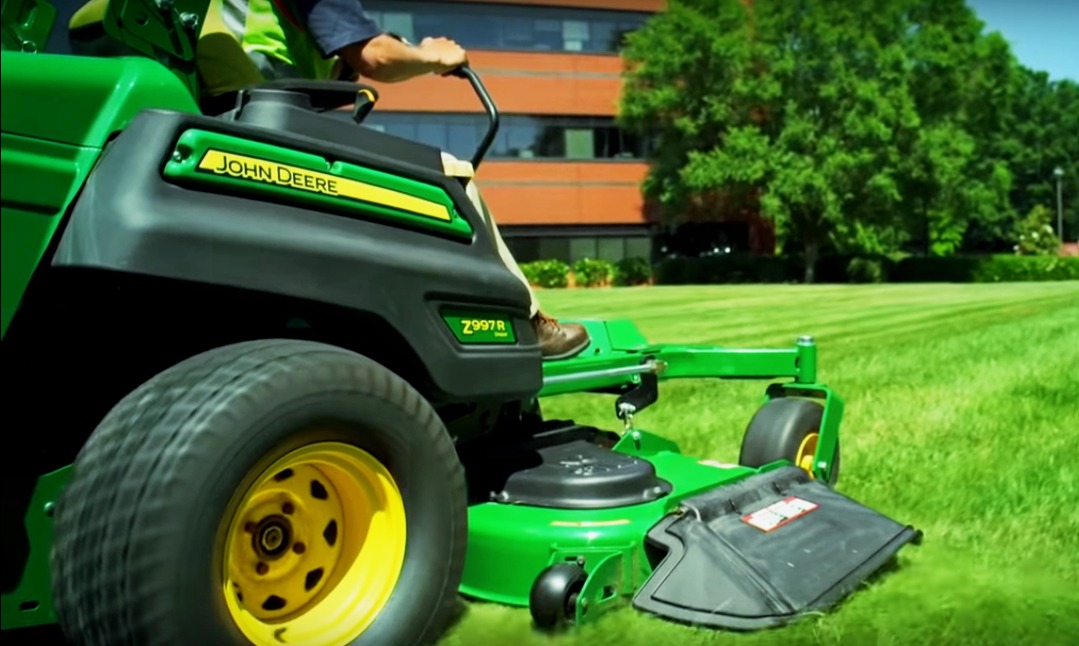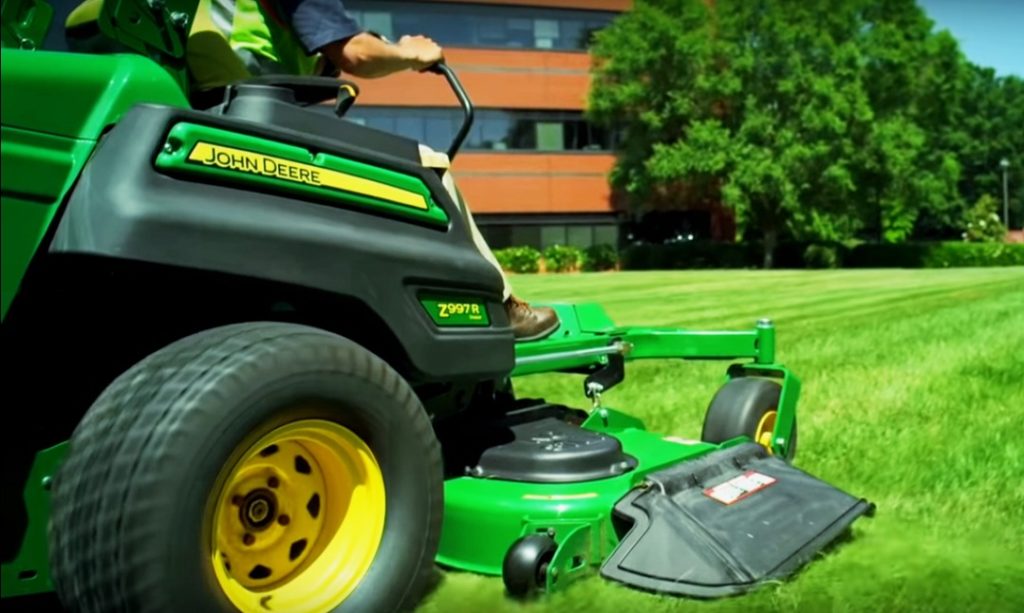 Most Powerful Zero Turn Mower?
ZTrak Z997R Diesel Zero-Turn Mower is the most powerful zero turn mower with 37.5 HP Diesel Engine present in the market right now.
From the past few years,  zero turn mowers have taken the commercial lawn mower market by storm. Zero-Turn Mower is an inventive, ingenious and robust iconic machine. Once you decide to go with zero turn mower, you don't go back because it fulfills your needs so perfectly that you don't need another mower after it. Whether it's a commercial-grade or a home-owner grade, zero turn can be the perfect choice for you.
What the Zero-Turn Mower is?
Zero turn mower is a commercial riding lawn mower, which has the potential to make the smallest circular turns while fulfilling your cutting needs. So you might be able to do your work the way you desire.
The reason why zero turn mower is called zero turn is because of its small turning radius that is almost equal to zero inches.
Top 3 Most Powerful Commercial Zero Turn Mowers available in the market
With our extensive 78 hours of research, we have found the top three most powerful zero turn mowers in 2020.
ZTrak Z997R Diesel Zero-Turn Mower
Z970R Zero-Turn Mower
Z994R Diesel ZTrak Zero-Turn Mower
Model
Z997R
Z994R
Z970R
Engine Model
3TNVS88C
Diesel Engine
3TNV80F
Diesel Engine
Fx 1000V
Hybrid
Engine Power HP / KW
37.4 HP
27.5 kW
24.7 HP
18.4 kW
35 HP
26.1 kW
Fuel Tank Capacity
12 U.S. gal
45.4 L
11.5 U.S. gal
43.5 L
11.5 U.S. gal
43.5 L
Mower Deck Size
Side discharge, mulch on demand
Rear discharge: 60 inches
Side discharge: 72 inches
Side discharge: mulch on demand
60 inches to 72 inches
Side discharge: 54 inches to 60 inches

60 - 72 inches
Blade Tip Speed
18,000 fpm approx.
5,486 m/min
16,000 fpm approx
4,877 m/min
18,000 fpm approx
5,486 m/min
Transmission
Hydrostatic Transmission
Dual Hydrostatic wheel drive, tuffy torq
Heavy duty ground drive with cross porting for improved cooling
Hydrostatic Transmission
Speed Range
0 - 11.5 mph
0 - 18.5 km/h
0 - 11.4 mph
0 - 18.3 km/h
0 -12 mph
0 - 19.3 km/h
Drive Wheel
26 x 12 sq shoulder 4ply turf, optional 26 x 12 - 12 michelin wheel, turf tires
24 x 12 - 12 4ply turf
optional 24 x 12 - 12 michelin wheel, turf tires
24 x12 - 12
Caster Wheel
15 x 6 - 6 flat free
13 x 5.0 - 5 flat free
13 x 6.5 - 6

Warranty
36 months with no hour limitation for first 24 hours.
36 months with no hour limitations for first 24 hours.
36 months with no hour limitations for first 24 hours.
By the end of this, you will be able to pick the most suitable zero turn mower according to your needs.
1. ZTrak Z997R Diesel (Most Powerful Zero Turn Mower)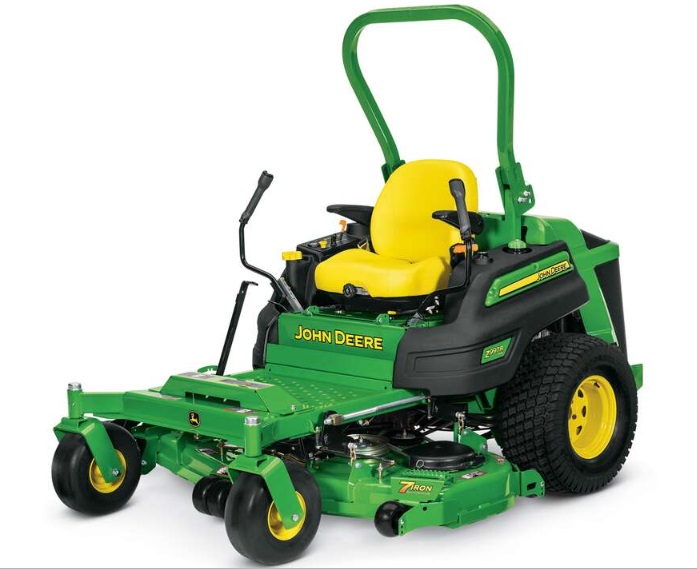 ZTrak Z997R Diesel Zero-Turn Mower ranks at the top of most powerful mowers when it comes to the discussion regarding horsepower comparison.
This R-Series heavy-duty, large-capacity mower gives you the power like front mower in a zero-turn mower. It has all three fueling options. i.e. Gasoline, Electric and now in addition to propane to increase its performance with mean less maintenance time and more working time to make it the most powerful zero turn Mower.
It is a beast with 37.4HP engine power and with four mower deck on-demand with a range from 60 inches to 72 inches side discharge mulch and is quite amazing with adjustable cutting height ranges from 0.25 inches to 5 inches. Turf airless Radial tire technology provides a smoother ride and less vibrational fatigue hence making it easy for you to spend more time with your mower.
One of the special features that make this mover a mighty machine is its 2-in. (5.1-cm) roller that has 0.25-in. (0.64-cm) thick-walled strong tubular steel along with internal axle which cast the entire length with bearings on both ends.
It's a quality drive system and perfect height-of-cut make this mower so efficient that it can finish the work of 3.5 hrs in 45 minutes with ease. Standard Operator comfort with a fully adjustable seat is a complete package of ease and convenience during mowing. Hence it's a machine that not only provides you high power but comfort and convenience to use it for a more extended period.
Special Features:
7-Iron Pro Deck for the highest quality cut. 7-Iron decks are 140 mm (5.5 in.) deep and 7-gauge strong. These are the most durable mowing decks in the industry of mowers, which makes zero-turn the most potent commercial mower.
Powerful 3-cylinder, liquid-cooled diesel engine
Hydrostatic transmissions
Top speed up to 18.5 km/h
2. Z970R Zero Turn Mower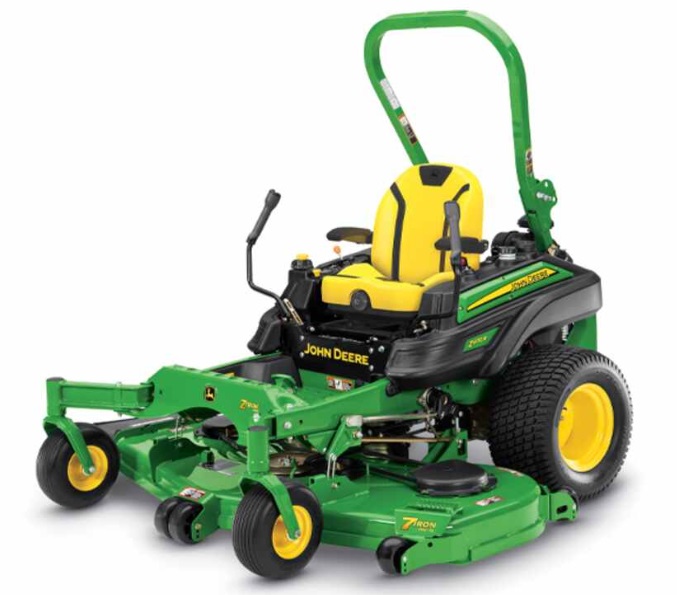 It is manufactured for dealers and contractors, searching for the best results and demand the excellent finish in their mowing work.
The R-Series's modified with the most powerful feature of cross porting, which assures the engine's and fluid's cooling process, where the hydraulic fluid from the least work is filtered and then delivers it to the input of the side doing the most work — hence making this mower an ideal choice for your hillside mowing needs.
It is an exciting range of ZTrak R-series designed with 35HP engine power and established with a stamped Mulch On Demand 7-Iron PRO deck 5.5 inches deep to deliver efficient airflow and implemented with Hydraulic Cross-Porting System to the Brake-N-Go foot pedal start.
The exceptional cooling in high load conditions, easy-to-check level, and refill hydraulic oil helps it to perform at peak performance and making it an ideal choice for powerful mowing needs.
It also gives comfort in weight adjustment with weight suspension seat and rubber footpad to reduce vibration. This Premium ZTrak Mower is manufactured to provide you the best results from beginning to end.
Special Features:
7-Iron Pro Mowing Deck.
Brake-N-Go starting.
Cross-porting hydraulic transmission.
Powerful 35.0-hp (26.1-kW), the commercial-grade engine provides impressive efficiency, performance, excellent reliability, and productivity.
3. Z994R Diesel ZTrak Zero Turn Mower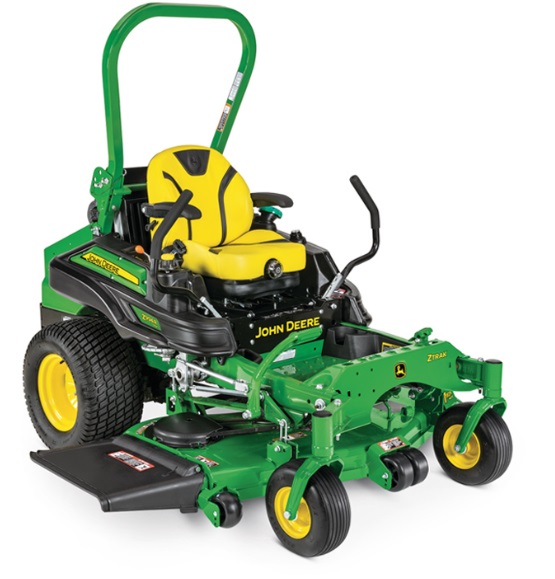 For cultivators and harvesters owning the large commercial areas who are not able to afford much, this mower is low in price and offers great performance. It ranks at 3rd position on our list of most powerful zero turn mower. But this does not mean it inferiors than the rest, It still holds enough power to meet all your residential and commercial needs.
It's an impressive product with a liquid-cooled diesel engine having 3-cylinders with dual hydrostatic wheel drive transmission which offers significant power of 25 HP, with a top speed of 18.3km/h. Its advanced dual transmission offers a maintainable speed. Z994R Diesel Ztrak mower offers three mower deck options. The deck offers an amazing wide-cut range from 54 inches to 72 inches with adjustable cut-height ranges from 0.25 inches to 5.5 inches and is in the more economical and affordable range to fulfill your lawn mowing needs.
The Z994R offers a high-torque, low-discharge diesel motor that gives the capacity to intense conditions with low vibration levels, which provides upgraded comfort, expanded efficiency, more economical working expenses, and longer motor life.
Special Features:
7-Iron PRO Deck available in 54-in. (137-cm), 60-in. (152-cm), 60-in. (152-cm) MOD, and 72-in. (183-cm).
24.7 hp (18.4 kW) liquid-cooled diesel engine.
ComfortGlide Suspension on all seat options.
11.5 U.S. gallon fuel tank (43.5 L).
Precautions while using most powerful zero turn mower
You should use heavy footwear, eye protection, and ear protection.
Avoid wearing shorts or baggy clothes.
Make it compulsory to check tire pressure before mowing.
Remember to check both, the engine and the brake oil.
Maintain a safe distance from wet slopes.
Read the owner's manual before operating the mower.
If you are not sure about anything, ask, and search.
Keep your machine away from any type of flame when fueling.
Versatility of zero turn mower
Zero-Turn Mower is capable of adapting many different and new functionalities, activities, varieties, and standards. It offers a wide range of attachments such as fertilizer spreaders, dethatchers, and snowplows. You can use towable attachments by installing a hitch behind the Zero-Turn Mower.
You can imagine a Zero-Turn Mower with Side-mounted bins, rear-mounted bags, specialized mulching blades and a mowing deck with modifications.
The composition of zero-turn mowers also allows the operator to use alternative fuel sources.
Conclusion and Recommendation
Each version, each series, and each model is built to fulfill some specific purpose and need. They are also upgraded with some special modifications to make them a more advanced version in comparison with the previous models.
As we go up, we get a bigger deck, stronger frame, and more powerful diesel engine configurations and 4 radiators.
But the preference is all yours.
Each model of this R-series is bulky, heavy and modified to make them more commercial, extra powerful, and enormously stronger from others to do their job faster and to get the best results.
These upgraded versions are kind of Hybrid, that makes them able to do a better amount of work with more power in lesser time.
This R-series is more substantial if you have a larger yard or a vast commercial property to manage. You will get more strength, more durability and better results by using any of them. These are designed and modified to make your life easier, more comfortable, and time-saving with less fatigue. Now, you know which are most powerful zero turn mowers. Choose one suits your needs better.
Happy Mowing!