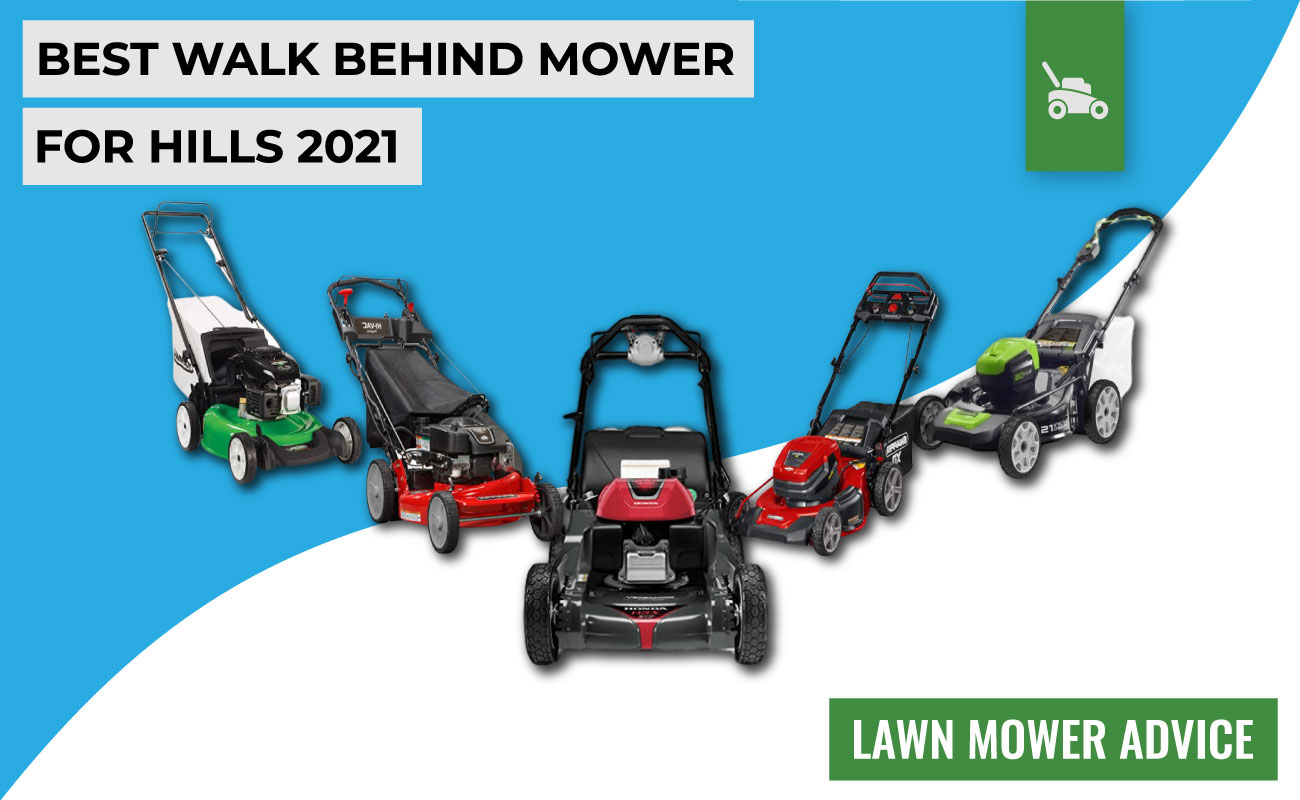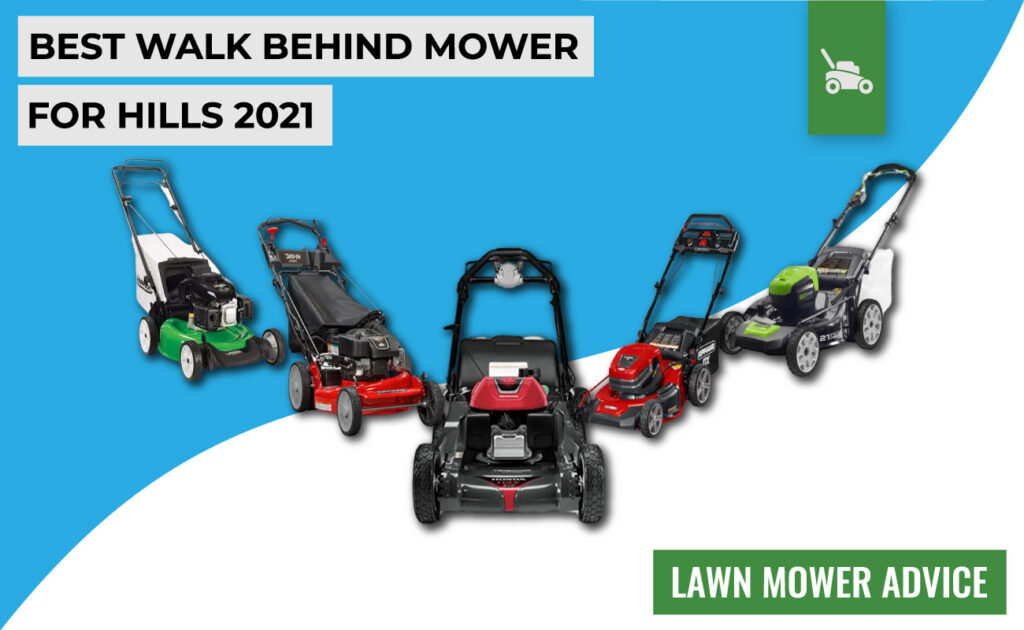 Hilly yards are the Rolls Royce of landscapes. Absolutely gorgeous to look at, extremely difficult to maintain. Granted, hilly slopes look great and add to the beauty of your property but maintaining a steep lawn is one of the most time-consuming and daunting tasks. But, having the best walk behind a mower for hills can solve all your mowing problems. These types of lawn mowers look and work just like typical mowers for flat surfaces. However, they have added power to tackle the incline or slopes. The additional power makes these walk-behind lawn mowers extremely effective and easy to maneuver.
A lawnmower meant for flat land will not work well on hilly surfaces and will make the task very tedious. On the other hand, a well-designed walk behind mower for hills will not only help you to reduce the physical effort but also makes maintaining your hilly yard an easy task.
But the question is how to select the best walk behind mower for hills? The markets are flooded with a variety of lawn mowers claiming to be the best in the business, so picking one can be a very confusing thing.
In a Rush? Here is Our Top Choice - Honda HRX217K5VKA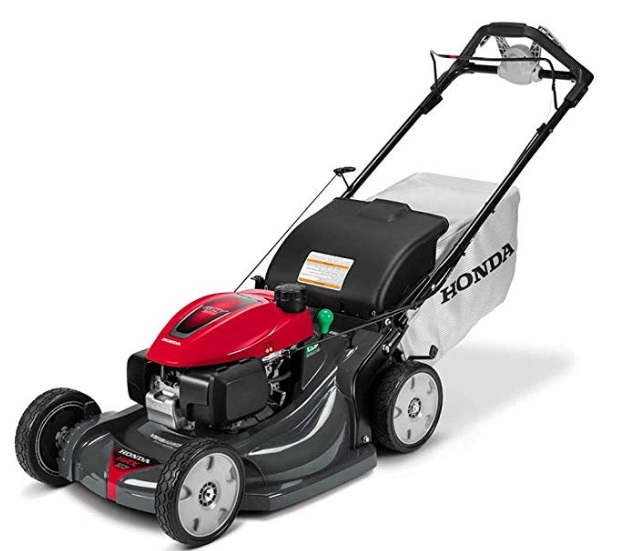 Reliable and potent Honda GCV200 Engine
Revolutionary 4-in-1 mulching-bagging System
Durable 21 inch Rust and Dent-free Deck
3-position quick-release adjustable handle for convenient mowing
Stylish 9 inches ball bearing wheels for better maneuverability
Flywheel brake safety system
Full manufacturer warranty
We have done the research for you and have compiled a list of the best walk behind mowers for hills. The selection considered important aspects of a lawnmower like a drive mode, speed, and cutting capacity. This best walk behind mower for hills review will help you to know what the important things to consider are before buying.
Best Walk Behind Mower For Hills 2021
By reviewing over 15 lawnmowers from different categories we have listed the top 5 Best Walk Behind Mower For Hills.
IMAGE
PRODUCT
DETAILS
 

Our Top Pick

Honda HRX217K5VKA
Engine Power: 187cc
Deck Size: 21 inch
Weight: 108 pounds

Editor's Pick

EGO Power+ LM2142SP
Battery Power: 2x56V 5Ah Li-Batteries
Deck Size: 21 inch
Weight: 89.8 pounds

Budget Pick

Greenworks GLM801600
Battery Power: 160cc
Deck Size: 21 inch
Weight:79.5 pounds
Snapper XD 82V MAX
Battery Power: 2×2.0Ah Li-Batteries
Deck Size: 21 inch
Weight: 90 pounds
Snapper P2185020E
Engine Power: 190cc
Deck Size: 21 inch
Weight: 85.2 pounds
Troy-Bilt TB330
Engine Power: 163cc
Deck Size: 21 inch
Weight: 39.39 pounds
Lawn-Boy Self Propelled Mower
Engine Power: 149cc
Deck Size: 21 inch
Weight: 66 pounds
Yard Machines Gas Mower
Engine Power: 132cc
Deck Size: 20 inch
Weight: 47 pounds
Earthwise 60418
Battery Power: 2x40V Li-Batteries
Deck Size: 18 inch
Weight: 52 pounds
1. Honda HRX217K5VKA – #1 Best Walk Behind Mower For Hills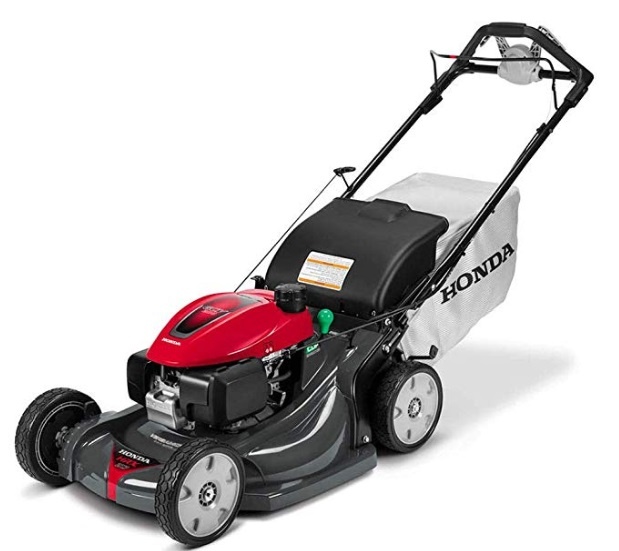 | Power Source | Deck Size | Engine Size | Weight |
| --- | --- | --- | --- |
| Gasoline Powered | 21 inches | 187cc | 108 Pounds |
Nobody makes an engine like Honda, and Honda has conveniently brought their engine-making prowess to the lawn mower market too. The HRX217K5VKA is a powerful, self-propelled lawn mower for steep hills that is both simple to use and highly efficient. The reason Honda stands out on top is because of its variable speed drive, its ultra-fine cutting efficiency, rear-wheel drive, and its high dependability.
Steep slopes require a lot of energy to walk on, let alone push a mower around. With the Honda HRX217K5VKA, worrying about it is a thing of the past. The mower is self-propelled meaning you won't have to sweat behind a push mower on steep hills. Unlike old gas-powered lawn mowers that featured a manual choke, the Honda HRX217K5VKA boasts an automatic choke mechanism that can assist in both starting the engine and maintaining a steady speed.
The mower also features the Honda MicroCut blade technology. For a smoother and more even cutting of the grass the blade features 4 cutting surfaces. As Honda is a celebrated vehicle manufacturer, the company knew how to manage the moisture and rust on something that will work in the open and in moisture all the time.
The whole build of the HRX217K5VKA is rust-free and is crafted out of a composite material. The powerful 187cc engine is from the GCV190 series. The engine in itself is an engineering marvel. It has been in production since 1998 and has seen nearly 22 years of improvements. It is extremely easy to pull-start and is mated to a rear-wheel gear that makes turning and walking behind the push mover a breeze. The Honda HRX217K5VKA can last for about 10000 square feet on one tank of gas. This is enough to mow medium to large-sized areas thanks to the 21" deck size.
The walk behind lawn mower also offers a seven-way adjustment to adjust the cutting heights from 0.75" to 4". The handle on the HRX217K5VKA also has three positions and there is also an option to adjust the mulching/bagging ratio. The lawnmower has smooth operation and speeds can range between 0 to 4 mph which is useful for going up steep hills.
In terms of looks, the lawnmower is a treat to look at and looks very professional, and has a sturdy build. Apart from the lack of a wash port, the whole mower is a very well-thought-out design that packs both function and style.
2. EGO Power+ LM2142SP
| Power Source | Deck Size | Battery Power | Weight |
| --- | --- | --- | --- |
| Battery | 21 inches | 56V / 5Ah | 89.8 Pounds |
EGO Power+ LM2142SP is the most versatile and one of the best walk behind mower for hills. It is a battery-powered self-propelled lawn mower that can give gas-powered ones a run for their money. The EGO Power+ comes with two 56-Volt batteries and you can power the walk behind mower with either of the two batteries. The batteries on the mower are cross-compatible with all other EGO products so you can save a lot thanks to the modularity. Moreover, you can put one to charge while you work with the other one.
The handlebar features the throttle control on the left and can adjust speeds to suit your needs. You can mow with ease thanks to the 20″ deck size and the strong 600W motor. The self-propelled feature works flawlessly even on hills, and you can select from the crawl to the jog mode or adjust anywhere in between depending upon your comfort. The six-step height adjustment can set the cutting height between 1.5″ and 4.25″ with the push of a lever. The overall design of the EGO Power+ is well thought out, is sturdy, and can withstand the test of time.
Even the handle has three preset positions so that you get the best experience when mowing. Some additional features on the EGO Power+ are the headlight that allows you to work through the night and the 10" rear wheels that make the overall walk behind mower experience so much easier and efficient.
The Power+ has a very futuristic design and even the color choices of green on grey help it stand out. The mower is as much as 30% quieter than its gas-powered counterparts and delivers the power without having any carbon footprint. It's nice to see that EGO didn't just think about the functions but also paid a lot of detail to the aesthetics. EGO Power+ is the best electric walk behind mower for hills thanks to the plethora of great features and a practical approach towards electric mowers.
Also Read: EGO LM2102SP Review
3. Greenworks GLM801600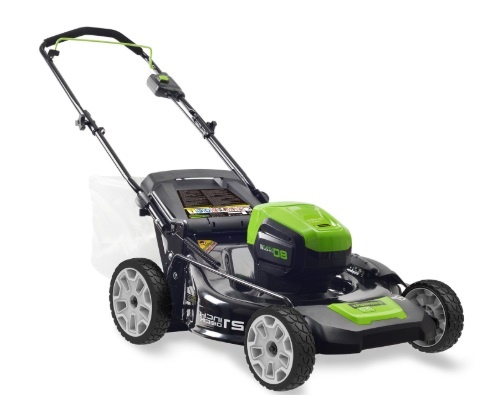 | Power Source | Deck Size | Battery Power | Weight |
| --- | --- | --- | --- |
| Battery | 21 inches | 80V / 2.0 Ah | 79.5 Pounds |
If you're in the market for a lawn mower that is lightweight and will get the job done effectively, then the Greenworks GLM801600 is just the thing for you. The GLM801600 offers the quiet operation of a battery-powered lawn mower and can run a whole hour on a single charge thanks to the 80V battery. The deck size on the lawn mower is 21-inches, which makes sure your mowing operations will be efficient and quick.
The lawnmower also features the Greenworks Smart-Cut technology which will sense the load and resistance that the mower is facing and adjust the rotations of the blade accordingly to save power when not needed. This helps in enhancing the runtime and performance. This proprietary technology also makes sure that the blades are not stuck up if they are operating at a lower RPM than needed.
The DigiPro brushless motor on the Greenworks provides high torque and power to make mowing easy and quick. One of the best things about this lawn mower is that it needs minimal maintenance and has no emissions. Overall, it offers a large enough cutting width to boost up mowing.
The wide deck is 3-in-1 which means it can mulch, side discharge, and has also rear bag capacity. The additional feature of the height adjustments and simple to adjust abilities of the handlebars and battery flaps make it the ideal green walk behind mower for hills.
Overall, the mower has a sturdy build and feel and will work its way through your hills like a breeze. The design is friendly as it can be stored vertically and there is an onboard battery life indicator so that the user stays informed about how much juice is left. Moreover, the quick charge feature is a great addition and makes it a good electric option.
4. Snapper XD 82V MAX Step Sense Cordless Electric 21-Inch Lawn Mower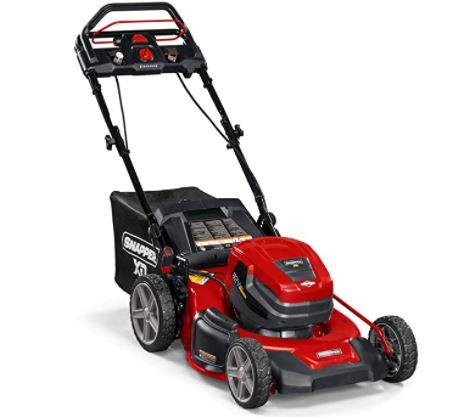 | Power Source | Deck Size | Battery Power | Weight |
| --- | --- | --- | --- |
| Battery | 21 inches | 82V / 2.0Ah | 90 Pounds |
If there's a company that offers ultimate buying choices to the consumer, that's Snapper. Snapper XD 82V MAX comes with a 21″ deck, is cordless, and is self-propelled, making it one of the best walk behind lawn mower out there.
Powered through a Briggs & Stratton lithium-ion battery it is not known for its battery longevity but is good for a 45 minute mowing session on one charge.
Snapper XD 82V also offers seven-step height adjustment levels that can be switched by the push of a lever. While the Snapper XD packs enough power for small slopes and inclines if you have a steep incline, you'd be better off with a gas-powered design.
5. Snapper P2185020E HI VAC 190cc 3-N-1 Rear Wheel Drive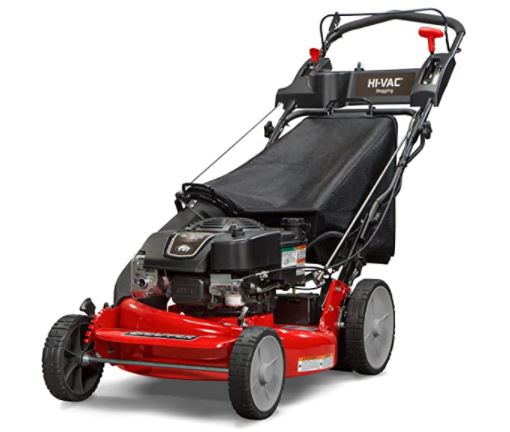 | Power Source | Deck Size | Engine Power | Weight |
| --- | --- | --- | --- |
| Gasoline Powered | 21 inches | 190 cc | 85.2 Pounds |
Snapper has been in the Lawn Mower business for quite some time now and knows what the ultimate consumers need. The P2185020E features a strong 190cc engine that can mow through any terrain with ease. This 3-in-1 mower is packed with standout features. It can mulch easily and discharge well out of the sides. If it not were for some of the decisions made by Snapper to make the mulching kit an extra, this would have been the top choice because of its strong engine and excellent self-propelling function.
The P2185020E is fast in operation and can reach a speed of 4 miles per hour with ease. The disc drive transmission system makes it one of the best walk behind lawn mowers on the market as it lets the user slow down or speed up to enjoy a uniform speed on the hill without breaking a sweat. The seamless propelled drive mated to the 21″ deck size makes the whole mowing experience efficient and very simple.
When you wish to mow, you may adjust the mower's cutting height between 1.25 and 4 inches as needed. The foam grips on the handlebar allow comfortable holding and it also houses a cup holder so you can walk behind the mower without having to worry about carrying a bottle or a cup. The mower is offered with a warranty of 3 years so you can have peace of mind about your investment.
The 10-inch wheels have ball bearings and can last a long time. The overall operational capacity of the lawnmower is respectable as the 190cc engine mated to a rear-wheel-drive system can churn out enough power to take care of any terrain. The collection bag reduces your number of trips to dispose the debris off. The proprietary Hi-Vac system, uplifting blade motion, and rolled deck ensure that debris doesn't make the deck dirty. If the mulching kit was included in the box, it would've been hard to beat as the best walk behind lawn mower for hills.
6. Troy-Bilt TB330 163cc Self-Propelled Lawn Mower- The All-Rounder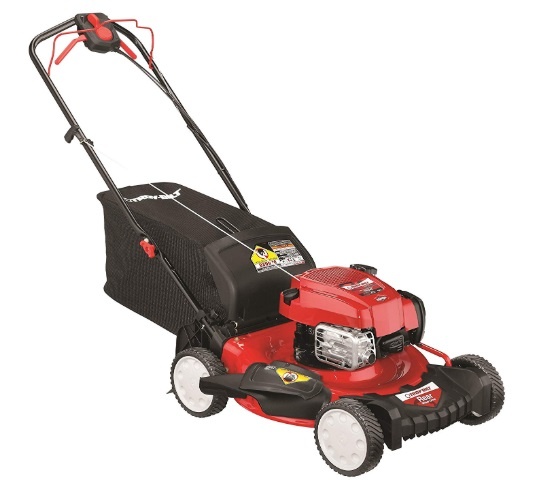 | Power Source | Deck Size | Engine Power | Weight |
| --- | --- | --- | --- |
| Gasoline Powered | 21 inches | 163 cc | 39.39 Pounds |
Looking for the best bang for your buck? Troy-Bilt TB330 is one of the best walk behind Mower For Hills on the market that can offer true value for your money. The TB330 has a decent and conventional lawn mowing machine. It is an all-rounder lawn mower that can cut all types of grass be it on smooth terrain or a rough one, steep or a flat one.
If you are buying your first lawnmower, then this is the best choice for you. The self-propelled motor rotates the wheels and blades at the same time thanks to its 163cc engine. The engine delivers ample power to trim any grass and can easily reach a speed level of about 3 miles per hour with the rear-wheel-drive system. The rear-wheel-drive system also allows for easy maneuverability and ease of operation on hills.
Also, the TB330 includes a rake guard, a mulching kit, and a rear collection bag. You can use the side discharge as well. A mounted lever on the handle helps to adjust the height between 1.25″ to 3.75″.
7. Lawn-Boy Self Propelled Lawn Mower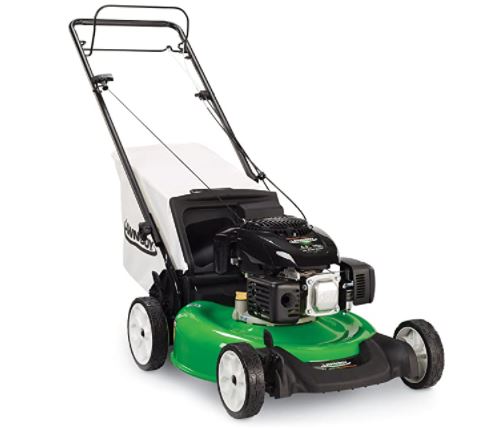 | Power Source | Deck Size | Engine Power | Weight |
| --- | --- | --- | --- |
| Gasoline Powered | 21 inches | 149 cc | 66 Pounds |
Lawn-boy as the name says is the name to trust when it comes to maintaining your lawn. The Lawn Mower self-propelled lawn mower uses a rear-wheel-drive system that is powered by a 600 watts motor. The motor is powerful and can make its way through all terrains.
The rear-wheel-drive adds traction which makes the whole mowing experience seamless and easy, you won't sweat at all even when mowing hills thanks to the excellent self-propelled function. Lawn boy easily wins a lot of categories by its practical features which undoubtedly make it one of the best walk behind mower for hills.
Kohler supplies the XTX series engines for the Lawn boy walk behind lawn mower. The XTX series is a proven technology that gives you ample power to mow through any type of grass with ease. The overall build quality of the Lawn-boy is great, and the 21-inch steel deep dome deck is very light and gives the user a great mulching experience. Trust this lawnmower to cut through all kinds of weed and grass.
The debris bag is very big, and you don't have to worry about emptying the bag very often. Furthermore, the 6-position height adjustment is amazing and provides unparalleled convenience. In addition to all the great features, lawn-boy has made the mower very easy to clean and maintain.
8. Yard Machines Gas Lawn Mower
| Power Source | Deck Size | Engine Power | Weight |
| --- | --- | --- | --- |
| Gasoline Powered | 20 inches | 132cc | 47 Pounds |
If you're looking for something that's simplistic yet gets the work done, Yard Machines has one of the best walk behind mower for hills thanks to its powerful engine. This offering from Yard Machines offers gas-powered mowing for a medium-sized lawn.
As we mentioned before, the mower is simple to use and has a very traditional design but the engine is dependable and efficient. It'll get the mowing job done without an issue and has no problems traversing through your hilly lawn thanks to its 7-inch wheels. The adjustable cutting height positions can be adjusted to suit your needs. The only downside is the lack of a debris bag and the non-CARB compliance issue.
In place of the bag, a side discharge deck gets rid of the debris. The Yard Machines Push Gas Lawn Mower is definitely a great buy if you want something that works without charging and is easy to maintain. The engine is 148cc and the equal-sized wheels in the front and back make it a balanced walk behind mower. For the level of power, the lawnmower is big in size and can be a bit difficult to store.
9. Earthwise 60418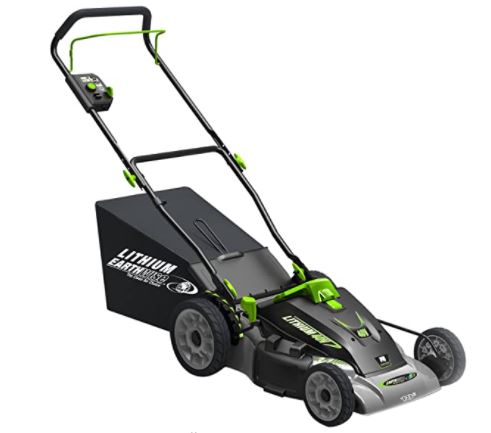 | Power Source | Deck Size | Engine Power | Weight |
| --- | --- | --- | --- |
| Battery | 18 inches | 40V | 52 Pounds |
Earthwise has gone the extra mile and has added not one, but two 40V Lithium-Ion batteries to the 60418. It is perhaps the most complete lawn mower out there.
Earthwise has paid a great deal of attention to detail and has added excellent maneuvering and emptying. The 60418 packs reliable performance, impressive deck size, and about 45-minutes run-time on a single charge.
It might seem low on paper, but the compact design, easy storage, excellent ergonomics, and seamless functionality make it a great buy. You'll forget about the corded extensions running all over the yard and experience excellent control thanks to the 7-inch front and 9.5-inch rear wheels. The perfect weight distribution makes it a great walk behind lawn mower for hills.
A single lever on the side switches between the height adjustments between 1.5″ to 4″. The Earthwise won't die on you as the LED battery indicator allows you to keep a tab on the remaining juice.
Buying Guide – Best Walk Behind Mower For Hills
Before you make a decision, here are some important things you need to know.
Lawn Size
It is important to know about your lawn first because different lawns need different machines. For instance, for a huge yard size, a walk behind mower or a zero-turn mower is better. It will help to funnel down fewer options to make the right choice.
Weight is Important
The perfect weight on the mower will allow you to maneuver it with ease. Too much weight will make it difficult for you to control it, and too little will make the mowing process inefficient. Controlling the mower is a challenge on a steep hill, that is why these self-propelled options are the best to choose from.
If you want to ride mowers, you need to spend extra cash on the gas. The efficiency of fuel eventually drops in hilly zones. A medium-weight lawnmower is, therefore, the best choice.
The Terrain
Not all mowers can work on a hilly or steep surface. There are many types of terrains and for each terrain; there is a different lawnmower. Our list includes the best lawn mowers for hills so you don't have to worry about the capabilities.
The Width of Blade Deck
The blade deck width varies from one model to another. Each model features a different blade kind and deck width. The optimal size of the blade deck depends on the breadth and length of your lawn.
For a compact lawn, small deck width is the ideal choice. But for huge lawns, always select the lawnmower with the large deck width. You'll cut down the mowing time with a decent length deck.
If you have a huge lawn, 19" to 21" is the recommended size.
Wheel Drive Operation
There are different types of lawn mowers, the ones with real wheel drive, ones with all-wheel drive, and front-wheel-drive ones. It completely depends on you if the bushes in the field or lawn are hard and there is muddy soil in your lawn then an all-wheel-drive mower is the best option.
On the other hand, if there is mushy grass in your lawn and remains dry most of the time, then the rear-wheel-drive is a good option. A front-wheel-drive generally packs lesser power than the other two ones and is not recommended for hills.
Engine/Motor Size
When going uphill, the mower works against gravity. As a result, you need a decent power motor for the best performance. Engines sizes between 110cc and 300cc will do the trick for most surfaces. For battery-powered ones be sure to go through the specifications and select one that packs enough power as a gas-powered engine.
EGO Power+ is a great battery-powered option that can compete with the Honda HRX217K5VKA in terms of power output.
Turning
Maneuverability is significant no matter what kind of terrain you have. Turning can be more difficult if you are working on the slope. This list has the best walk behind lawn mowers for hills that offer ample power and easy turning in most cases. Zero-turn mowers are best for huge lawns and yards but are not recommended for hills.
Conclusion
What is the main thing you are looking at in your lawnmower- reliability, design, speed, or weight? It is important to analyze many factors before you make the final decision. With this in-depth review, you'll be able to find the best walk behind mower for hills that will satisfy your needs.