For every homeowner, a delicate lawn with even surface is the most important thing. Keeping the lawn in the best possible shape can become difficult sometimes if you don't have the proper equipment needed.  Whether you own a small, medium or large-sized lawn, you definitely need a lawn mover that fulfills all your needs perfectly. And if you ever felt that handling a lawnmower is difficult, worry not. We have brought you the guide on best zero turn mowers with steering wheels that drives just like cars and mow your lawn as perfectly as any other mower.
Professional gardeners know how important zero turn lawn mowers are for the landscaping. But for new or intermediate ones, choosing the best zero turn lawn mower can be a headache especially when you don't know what exactly you should look for while shortlisting your next lawnmower. One of the prime reasons for this is that there are so many different mowers available with so many versatile features that create confusion to select the best mower for your lawn.
In a Rush? Here is Our Top Choice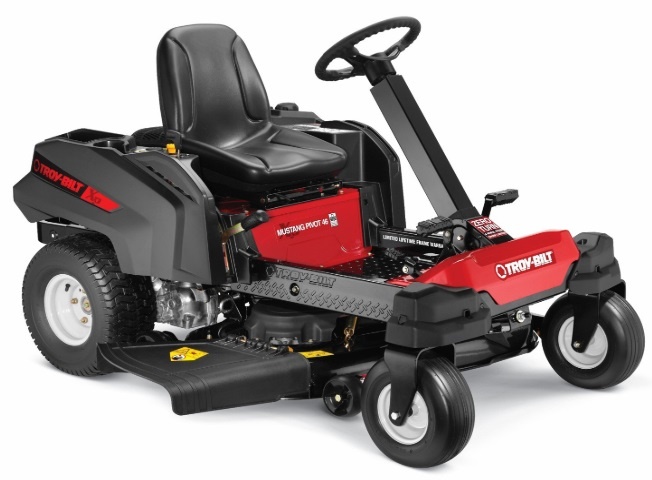 25 HP Powerful engine
46-inch Wide cutting deck
Electric Power Take-Off
High Back UV Seat For Comfort
Best Suited for Hills
Before you make a decision, you need to understand what is a zero turn lawn mower and what is the best lawn mower for your lawn. These riding lawnmowers make the work quick and easy for mid-sized and large yards. The most unique and appealing feature of these mowers is there zero turn radius which makes mowing tasks effortless, simple and quick.
It means you can easily handle the mowing and get in and out of the areas that are tough with other lawnmowers. Durability, power, and handling are the three prime aspects you should look for when choosing zero turn lawn mowers with steering wheel. Besides these there are many important factors to consider before making a decision.
Also Read: Best Walk Behind Mower For Hills 2021
3 Best Zero Turn Mowers with Steering Wheel
With our extensive research we have found Top 3 zero turn mowers with steering wheels that you can buy right now.
IMAGE
PRODUCT
DETAILS
Price 

Our Top Pick

Troy-Bilt 25HP 725cc 54 Inch

Easy Maneuverability
Powerful Engine
Wide Cutting Deck

Cub Cadet RZT SX 54

Suitable For Hills
Dual Led Lights
Wide Cutting Deck

Cub Cadet RZT SX 42

Lightweight
Dual Led Lights
1. Troy-Bilt 25HP Zero Turn Radius Mower with Steering Wheel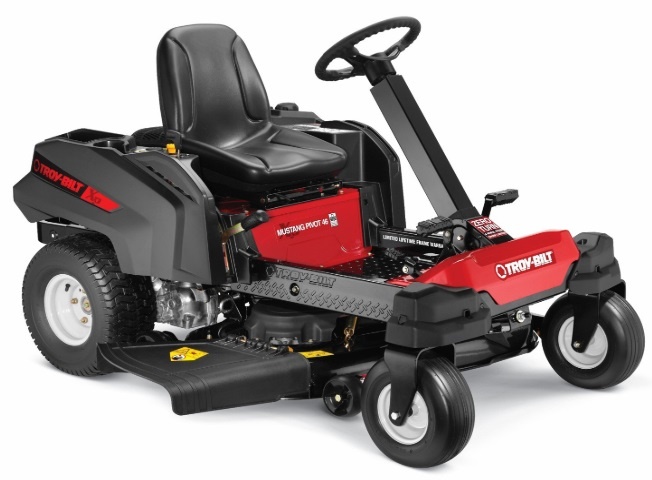 | Engine | Deck Size | Top Speed | Warranty |
| --- | --- | --- | --- |
| 22HP Kohler Engine | 46-inch | 7 mph | 3 years |
One of the most popular and reliable name in the mowing world, The Troy Bilt lawn mowers are best known for their power and durability. The company offers a wide range of garden tractors and lawnmowers to easily manage large yards. Troy Bilt Lawn Mowers features a variety of transmission options such as hydrostatic, Shift-on-the-Go and more.
Powered by a durable 25 HP/725cc Kohler twin engine with a top speed of 7 mph and 2.5 mph reverse speed, the is one of the best zero turn mowers with steering wheel. It combines the steering wheel control with natural motion and the high precision of the zero turn mower.
The premium quality lawn mower features a durable 46-inch cutting deck along with the reinforced heavy-duty steel frame which is integrated with the premium deck wash.
Also:  Best Selling Riding Lawn Mower with Steering Wheel(Amazon)
One of the best features is the super Power Take Off technology for easy and fast blade engagement that makes short work for every job. The steering system offers precise and operator-controlled maneuverability on uneven terrains and hills for unbeatable durability and productivity.
Also, the 18-inches high-backed UV seat features an adjustable knob to ensure individualized operator comfort. For user's convenience and security, Troy Bilt offers a 3-year limited warranty with a limited lifetime frame warranty. Overall, this best zero turn lawn mower with the wheel is highly recommended for hill mowing.
2. Cub Cadet RZT SX 54  (#2 Best Zero Turn Mowers with Steering Wheel)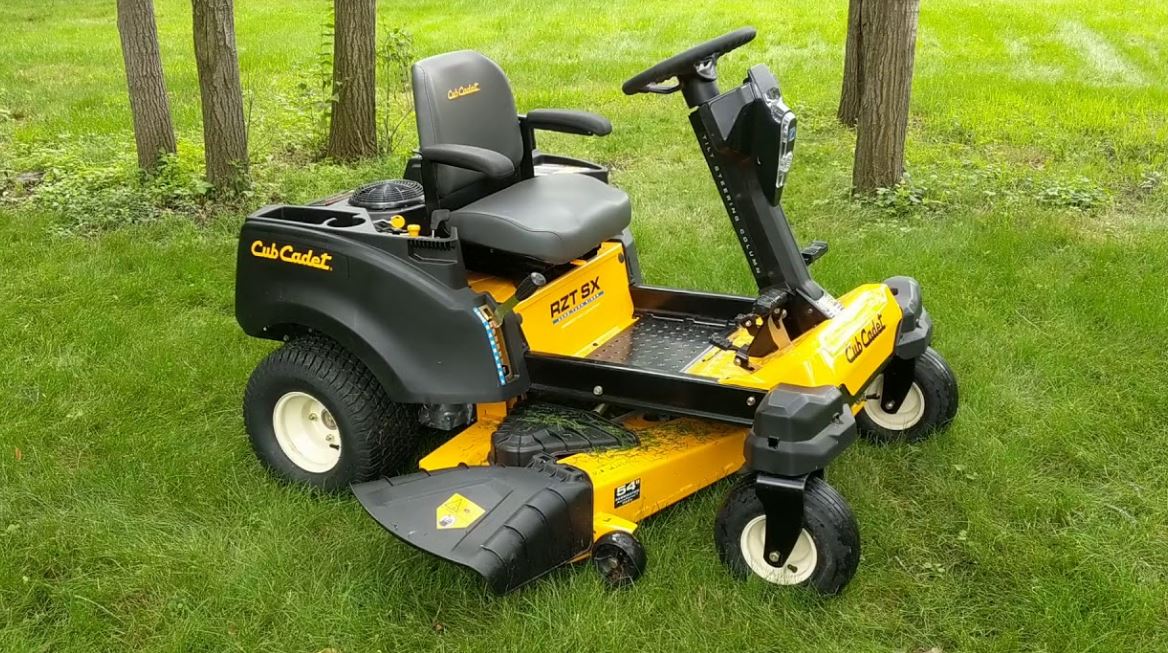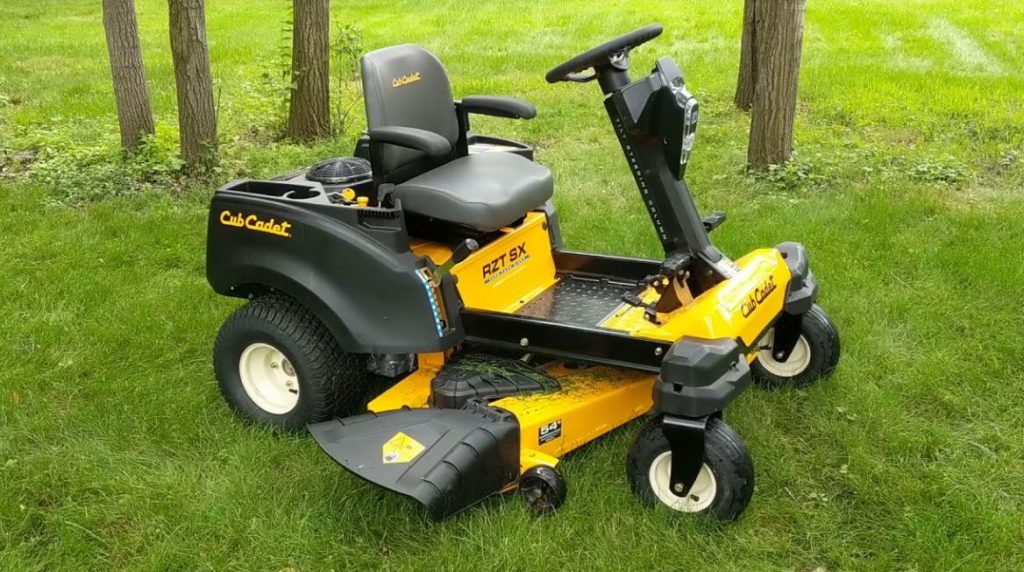 | Engine | Deck Size | Top Speed | Reverse Speed |
| --- | --- | --- | --- |
| 21.5 HP Kawasaki FR series | 50-inch | 7 mph | 3 mph |
One of the pioneers in the lawn mowing industry, Cub Cadet is producing quality gardening tools for decades. The company has produced zero turn mowers with diverse features that have been incredibly popular around the globe. Though these lawn mowers are expensive but in terms of performance, there is nothing better than Cub Cadet. Cub Cadet RZT SX 54 comes with steering wheel and known as one of the most easy to handle zero turn mower.
Features of  Cub Cadet Zero Turn Mowers with Steering Wheel
Instead of zero-turn mowers with the lap bars, the Cub Cadet has a unique standard of being one of the best zero turn mowers with steering wheel. The steering system controls all four wheels instead of just the rear ones to provide extra stability on hills and rough terrain.
In addition, its high seat back, tilt steering column, LED headlights, and eight cutting positions enhance its comfort and convenience. It's 21.5 HP Cub Cadet-certified Kawasaki FR series OHV engine offers you the increased efficiency and premium performance.
If you want the power and speed of a zero-turn mower without the learning curve, the Cub Cadet RZT-SX 54 is surely the best choice. It has maximum speed up to 7 mph forward and 3 mph in reverse.
3. Cub Cadet RZT SX 42 Zero Turn Mower with Steering Wheels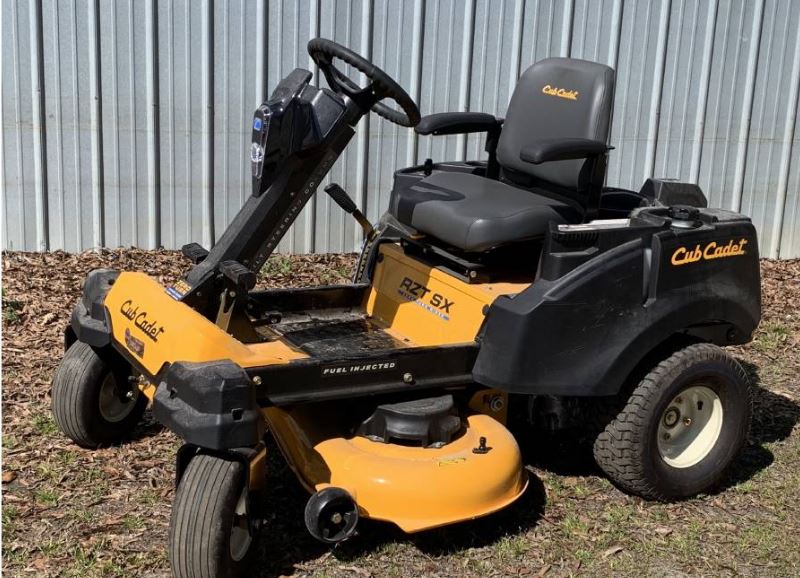 | Engine | Deck Size | Top Speed | Reverse Speed |
| --- | --- | --- | --- |
| 22 HP | 42-inch | 7 mph | 3 mph |
It has a floating deck and nose rollers to decrease the chances of being ground out, equipped with User-friendly, lever operated 8-position spring-assisted deck lift to make the mowing more convenient.
Enjoy increased hillside stability and reduced mowing time with the 3rd best zero turn mowers with Steering Wheel. PTO electric blade engagement that seamlessly engages blades while extending belt and engine life.
Features
This 42-inch Cub Cadet zero-turn mower comes with a 2-cylinder Self-branded engine with an automatic drive system and electric Power take-Off technology. It includes a more comfortable high-back seat and a washout port.
Cub Cadet RZT SX 42 Zero Turn Mower Powered by Kohler 7000 Series V-twin OHV powerful engine of 22 HP. This Zero Turn Mower featured with Four-wheel steering with steering wheel control and New tilt steering column with LED headlight.
Features of the Zero Turn Mowers
There are different models and brands of zero turn lawn mowers available each offering unique features. So, you have to consider your needs first and then look for your desired models or brand. Without considering your needs, investing money can be just a waste of time and money. Here are important things to consider before you make a decision and purchase.
Engine Horsepower
The power of the engine determines the functionality of the mower. Machines with higher HP (Horse Power) are more powerful than low HP mowers. The engine power makes the mowing every easy, fast and swift. If you want a lawnmower for hilly areas or uneven terrains, consider the mower with higher horsepower because it helps to cut the thick grass very effectively.
Cutting Width
The width of the cutting deck aids to reduce the overall cutting time. The ideal deck size recommended by lawn experts is 50 inches to 60 inches as this size can perfectly cut between different types of obstacles with comfort. Get a full pack because cutting with the broader deck is more comfortable as compared to others.
Fuel Capacity
Zero-turn lawn mowers have different fuel options such as flex-fuel, diesel, gasoline, and propane. But in the end, it depends on your preference. The model that can help you to save fuel is best for you and therefore we recommend to go with the electronic fuel-injection system.
Transmission
Being the best zero turn mowers with steering wheel, the transmission is down with a level system. The dual-level system must be as ergonomic as possible to offer the operator with maximum control and perfect maneuverability. Make sure to check the specifications before buying to find how ergonomic transmission is of the particular product.
Weight
The weight of the mower matters a lot especially when you are going for longer mowing sessions. Look for the models that can move around quickly, either for operations or for storage. It helps to keep the mower away from the changing seasons thus preventing it from continuous maintenance and repair.
Benefits of using the Zero Turn Mowers with Steering Wheel
Beginner friendly and easy to operate just like cars.
Mowers with cutting about 42 inches or above works best on sloping steep gradients.
A model with 19 to 24 Horsepower engines is considered as faster.
Such mowers can turn easily 180 degrees on the spot that helps the mower in one pass and you don't need to turn back to re-mow the area. Just manipulate the levels, spin and then continue your mowing.
Hydrostatic transmission offers perfect maneuverability.
Wide anti-scalping wheels provide ideal grips even on damp grass.
They are highly durable with reinforced stamped steel.
Easily trims hard to each area around narrow flower beds and small bushes.
Extra attachments are available such as ergonomic control panels, adjustable controls, cup holders, integrated LED lights, comfortable mid-back seat positioning, and anti-slip foot area. Different models come with the keyless security and single touch starting option.
Maintaining the Best Zero Turn Mowers with Steering Wheel
Owning the best zero turn mower with steering wheel is not a solution. But for added performance, it is important to maintain your mower. Here are some effective tips for mower maintenance.
Carefully read the user's manual before using the machine and don't forget to follow the instructions.
Grease the mower regularly for best performance.
Maintain regular oil change because like the car, a zero-turn mower performs best when it has clean oil.
Sharpen the cutting blades to cut the grass smoothly.
Clean the mower as Ride-on mower usually cut through a rich amount of grass and other types of vegetation. It is important to keep the machine clean for increased longevity and better performance.
Be careful when you mow on wet grass. As various large-sized mowers may slide on slopes even when the grass is slightly wet.
Protect eardrums and wear noise protection earplugs.
Conclusion
While buying a zero-turn lawn mower, go with the powerful engine, wide cutting width, and maximum fuel capacity. But before making a decision, consider your needs first and then buy a zero-turn lawnmower. Don't forget to consider the length of your lawn because different models are made for different yards. Don't go for the expensive price when there is an affordable lawn mower available for your requirements.